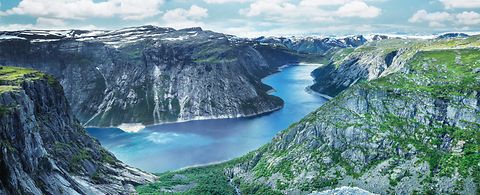 ANDRITZ acquires stake in Hammerfest Strøm AS, Norway, a specialist in power generation from tidal currents
2010/08/12
International technology Group ANDRITZ has acquired a 33.3% stake in the Norwegian company Hammerfest Strøm AS, including its subsidiary Hammerfest Strøm UK Ltd. based in Glasgow, Scotland, by means of a capital increase.
Hammerfest Strøm is one of the world's leading companies in power generation from tidal currents occurring in coastal waters. 

In addition to ANDRITZ, the international energy group Statoil headquartered in Norway, the local Norwegian power utility company Hammerfest Energi, and the Spanish utility company Iberdrola are the main shareholders in Hammerfest Strøm.
In 2003, Hammerfest Strøm installed the world's first tidal current turbine in Kvalsundet, Norway, with permanent connection to the public electricity grid. Based on this successful prototype, Hammerfest Strøm is currently collaborating with Scottish Power Renewables (part of Iberdrola Renewables, the largest producer of renewable energy in the world) on the manufacture of a 1 MW tidal current turbine to be deployed at the European Marine Energy Centre (EMEC) in Orkney, Scotland, in 2011. This plant provides the core technology for installation of a first commercial underwater energy array as from 2012.
For ANDRITZ HYDRO, energy generation based on tidal current is an important area of innovation. Its research and development centers in Austria, Germany, and Switzerland will ensure the further development of this technology in close cooperation with Hammerfest Strøm.


- End -
The ANDRITZ GROUP

The ANDRITZ GROUP is a global market leader for supply of systems and services to the hydropower, pulp and paper, metals, and other specialized industries (solid/liquid separation, feed and biofuel). The Group is headquartered in Graz, Austria, and has a staff of approximately 13,400 employees worldwide. ANDRITZ operates over 120 production sites, service and sales companies all around the world.

ANDRITZ HYDRO
ANDRITZ HYDRO is a world leader in the supply of turnkey plants and services for hydropower stations. In addition, rehabilitation and upgrading of existing plants are offered. Further fields of activity are development, design, and manufacture of pumps for selected applications.