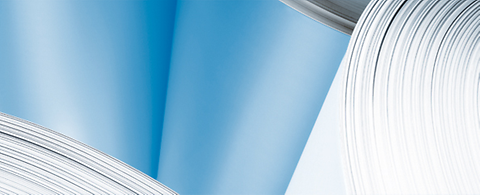 Successful start-up of the first ANDRITZ gap former at Cartiere Modesto Cardella, Italy
2010/03/09
Following the rebuild of the wet section of paper machine PM4 at Cartiere Modesto Cardella S.p.A., Italy, by international technology Group ANDRITZ, the PrimeFlow TW two-layer headbox with PrimeProfiler F dilution water control, and the first PrimeForm TW gap former to be supplied by ANDRITZ PULP & PAPER have gone into operation successfully.
The concept ANDRITZ has supplied provides high dewatering performance and production of corrugated base paper grades with a minimum of two-sidedness. Initial results after production start showed a significant improvement in paper formation and strength properties. The paper machine has a design speed of 1,200 m/min and a wire width of 3,180 mm; the corrugated base paper, with a basis weight range of 90 to 170 gsm, is produced from 100% waste paper.

'Thanks to the presence of the ANDRITZ experts on site, the rebuild went very smoothly. All systems have been started up successfully and we are very pleased with the components ANDRITZ has supplied', says Modesto Cardella, Managing Director of Cartiere Modesto Cardella.
- End -

The ANDRITZ GROUP
The ANDRITZ GROUP is a globally leading supplier of plants and services for the hydropower, pulp and paper, metals, and other specialized industries (solid/liquid separation, feed and biofuel). The Group is headquartered in Graz, Austria, and has a staff of approximately 13,000 employees worldwide. ANDRITZ operates over 120 production sites, service and sales companies all around the world.
ANDRITZ PULP & PAPER
ANDRITZ PULP & PAPER is a leading global supplier of turnkey systems and services for the production of all types of pulp, paper, tissue paper, board, fiber-board (MDF), nonwovens, as well as of biomass boilers and gasifiers for energy production. The technologies available are employed for the processing of logs and annual fibers, the production of chemical and mechanical pulps as well as recycled paper fibers, recovery and reuse of chemicals, generation of energy from biomass, preparation of paper machine furnish from virgin or recycled fibers, production of paper, tissue paper and board, calendering and coating of paper, and the handling of reject materials and sludges. Services include complete mill maintenance, equipment upgrades and rebuilds, engineered wear products, and spare parts.