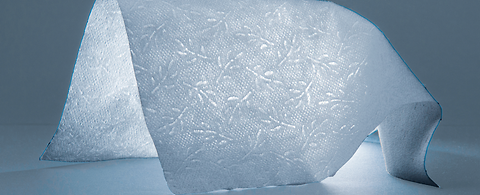 ANDRITZ, Nouvelles Fibres Textiles and Pellenc ST enter partnership for an innovative approach in textile recycling
2023/04/13
New ANDRITZ partnership sets a major milestone in industrial-scale recycling technology for textile circularity.
International technology group ANDRITZ entered an ambitious partnership with Pellenc ST and Nouvelles Fibres Textiles to set up the very first industrial-scale automatic textile sorting line in France combining automated sorting and recycling technology.
The partners have expert knowledge from decades of experience in sorting technologies (Pellenc ST), textile machinery and processes (ANDRITZ), as well as post-consumer textile value chains from sorting to manufacturing (Nouvelles Fibres Textiles newly founded by Les Tissages de Charlieu and Synergies TLC). 
The new textile sorting line being built is the first to combine Pellenc ST's automated sorting technologies with ANDRITZ's recycling technologies. It will process post-consumer textile wastes to produce recycled fiber engineered for the spinning, nonwoven and composite industries. Starting operations in mid-2023, it will serve as a production line for Nouvelles Fibres Textiles, as an R&D line for the three partners, and as a test and demonstration center for their customers.
Nouvelles Fibres Textiles aims to become a reference in both industrial grade material production and industrial scale post-consumer textile sorting, thanks to innovative technologies with hard point removal providing pure fibers, selective colors, and differentiated fiber types.
Nouvelles Fibres Textiles' partners also work closely together in R&D at the ANDRITZ Laroche and Pellenc ST technical centers to keep pushing technical boundaries. 
Eric Boël, President, Nouvelles Fibres Textiles, comments: "We are very proud to announce the launch of the Nouvelles Fibres Textiles partnership. Several years of R&D involving key players from both textile and household waste management industries made this possible. We all shared our knowledge and expertise to promote on-the-ground circularity for textiles by full integration of the value chain. This guarantees traceability of recycled materials, mitigates the textile and composites industries' environmental impacts and reduces their carbon footprint while creating meaningful jobs."
- End -
ANDRITZ GROUP
International technology group ANDRITZ offers a broad portfolio of innovative plants, equipment, systems, services and digital solutions for a wide range of industries and end markets. Sustainability is an integral part of the company's business strategy and corporate culture. With its extensive portfolio of sustainable products and solutions, ANDRITZ aims to make the greatest possible contribution to a sustainable future and help its customers achieve their sustainability goals. ANDRITZ is a global market leader in all four of its business areas – Pulp & Paper, Metals, Hydro and Separation. Technological leadership and global presence are cornerstones of the group's strategy, which is focused on long-term profitable growth. The publicly listed group has around 29,100 employees and over 280 locations in more than 40 countries.
ANDRITZ PULP & PAPER
ANDRITZ Pulp & Paper provides sustainable technology, automation, and service solutions for the production of all types of pulp, paper, board and tissue. The technologies and services focus on increased production efficiency, lower overall operating costs as well as innovative decarbonization strategies and autonomous plant operation.
The product portfolio also includes boilers for power generation, flue gas cleaning systems, various nonwoven technologies, and panelboard (MDF) production systems. With waste-to-value recycling, shredding and energy solutions, waste and by-product streams from production are converted into valuable secondary raw materials as well as into sustainable resources for energy generation. State-of-the-art IIoT technologies as part of Metris digitalization solutions complete the comprehensive product offering.