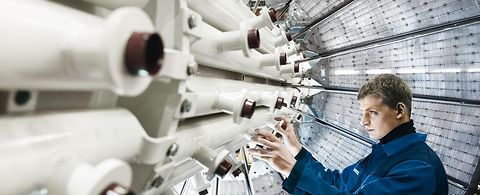 ANDRITZ successfully starts up newly developed filter press for iron ore
2018/07/11
International technology group ANDRITZ has successfully started up its newly developed mining filter press for the iron ore industry at Jagannath Steel in India, thus once again demonstrating its comprehensive know-how and capabilities in dewatering solutions for the mining and minerals industry.
The new mining filter press developed by ANDRITZ exactly meets the specific challenges related to dewatering iron ore. Further improvements have been made in order to ensure reliable operation and maximum performance. After the iron ore has been washed out and impurities have been removed, the ANDRITZ filter press ensures maximum dewatering of the filter cake. The newly developed feed shoe design optimizes and improves the machine's performance for iron ore compared to the standard rectangular design, with measurable improvements for the client.
"With the new mining filter press, we have an additional proven and innovative product for the mining and minerals industry alongside hyperbaric filters, vacuum belt filters, and the regular filter presses for iron ore concentrate dewatering. This has resulted in an optimized, reliable solution that will further boost our reputation as leading separation specialists," concludes Robert Stantish, Managing Director of ANDRITZ Separation India.
– End –
ANDRITZ GROUP
ANDRITZ is a globally leading supplier of plants, equipment, and services for hydropower stations, the pulp and paper industry, the metal working and steel industries, and for solid/liquid separation in the municipal and industrial segments. Other important fields of business are animal feed and biomass pelleting, as well as automation, where ANDRITZ offers a wide range of innovative products and services in the IIoT (Industrial Internet of Things) sector under the brand name of Metris. In addition, the international technology Group is active in power generation (steam boiler plants, biomass power plants, recovery boilers, and gasification plants) and environmental technology (flue gas cleaning plants) and offers equipment for the production of nonwovens, dissolving pulp, and panelboard, as well as recycling plants.
A passion for innovative technology, absolute customer focus, reliability, and integrity are the central values to which ANDRITZ commits. The listed Group is headquartered in Graz, Austria. With over 160 years of experience, 25,800 employees, and more than 250 locations in over 40 countries worldwide, ANDRITZ is a reliable and competent partner and helps its customers to achieve their corporate and sustainability goals.
ANDRITZ SEPARATION
ANDRITZ Separation is one of the leading separation technology specialists with the broadest technology portfolio in solid/liquid separation. The industries served include sectors ranging from environment to food, chemicals, and mining and minerals. The comprehensive product portfolio for solid/liquid separation comprises mechanical technologies such as centrifuges, filters, screens, thickeners, or separators, and thermal technologies such as dryers or coolers. The service sector focuses on customer support through local presence, prompt delivery of spare and wear parts, process monitoring and optimization, as well as operator training. In addition, the Separation business area offers technologies and services for the production of animal feed and biomass pellets.