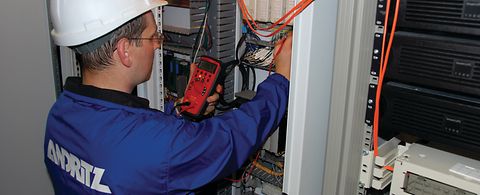 E&I installation
Solutions for making plants operationally ready
The control system in a modern operation touches every piece of equipment and instrument in the plant, similar to the way the nervous system touches every muscle and receptor in the body. Nothing will be conveyed, ground, classified, pumped, floated, roasted, calcined, or dried until the plant's "nervous system" is operationally ready. In short, the control system of the plant can mean the difference between profit and loss.

That's why ANDRITZ has an engineering group that focuses on the design of electrical, control, and instrumentation systems.

Whether it's a greenfield or brownfield project, electrical equipment, controls, and instrumentation typically account for a small portion of the total project budget – but their importance to operation of a plant is paramount. All mechanical equipment must be "bolted down" before the electrical, control, and instrumentation systems can be installed – and by the time it is installed, most of the project budget has been spent and many owners assume that the plant will simply start up without incident or delay. But before a return on investment can be realized, consider these critical questions about your plant's control:
Has the wiring been properly terminated?
Have the motors been "bumped"?
Has the I/O been checked back to the DCS/PLC/HMI?
Are the control networks operational?
Is the control system configured correctly?
Is the operating and maintenance staff trained?
Our battery limit covers all electrical equipment, controls, and instrumentation, including: 
Substations, including the complicated and protracted negotiations with power utilities
Power distribution, including harmonics and filtering
MCCs
DCS
PLC/HMI
Instrumentation
Field cabling, including data networks, power, controls, and instrumentation
Process data, in a form ready for import into the Enterprise Resource Planning (ERP) system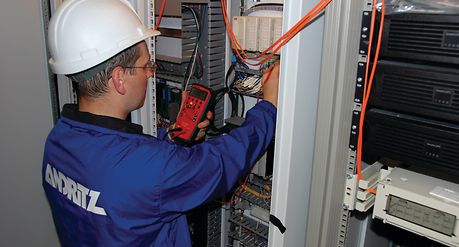 We structure our scope of supply to fit your commercial needs, from engineering and equipment supply, to engineering, procurement, and construction. Whatever the situation, ANDRITZ has the people, the patents, and the proven tools to ensure that your plant is operationally ready.

We have hands-on experience in heavy industry and understand that the documentation must be produced in such a way as to be concise, intuitive, and economical. A concise package gives the contractor a clear understanding of the installation requirements, allowing them to reduce uncertainty during the bidding process. An intuitive package helps the staff of the new facility use the drawings for an active maintenance program that will reduce operational issues and subsequent warranty costs. Our drawing packages are produced with this philosophy in mind.

Our detailed design engineering packages for automation electrification and instrumentation include: 
Single-line diagrams
Switchgear and MCC layouts
Lighting plans and fixture schedules
Power and control plans, including cable tray layouts
Cable block diagrams
Underground conduits and duct banks
Lightning protection
Motor elementary drawings
Schematics and connection drawings
Panel board schedules
Grounding design
Loop diagrams
Field termination junction box layouts
Installation specification