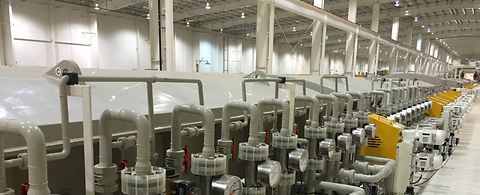 Automotive surface treatment line (CATL)
ANDRITZ provides surface treatment technology for high performance in paint ability, weld ability, and adhesive bonding for automotive applications.
Modern car bodies are assembled from a wide range of materials for high endurance and top safety in crash performance tests. Different aluminum alloys are used to achieve high strength while minimizing weight and emissions and extending the range of electrical vehicles. Automotive aluminum sheet requires cleaning (degreasing), pickling (de-oxidizing) and conversion (passivation) as pre-treatment prior to the car body production. The Alcoa 951 passivation and Ti/Zr conversion layer improve adhesive bonding, weld ability and paint ability of the aluminum parts.
Different demands for final surface properties by the automotive customers worldwide require the right process technology.
ANDRITZ Metals provides spray, immersion and roll-coater technology
The degreasing section requires spray technology for excellent cleaning performance. Spray or immersion treatment is available for the pickling process. The coating weight in spray and immersion conversion sections is controlled by flexible contact times. The roll-coater controls the wet film thickness, which is dried and bonded to the strip surface in the subsequent Peak Metal Temperature (PMT)-Dryer.
The complete process is full automated and controlled by the Level 2 automation system. It enables automatic selection of the required surface treatment process according final customer specification and provides the production line with the optimal set-points for pickling and conversion.
ANDRITZ Metals has minimized environmental impact with high efficient rinse design, improved bath maintenance (filter, oil separator and membrane technology) and closed loop technology using reverse-osmosis and ion-exchange. Any remaining waste water streams are treated in our state-of-the-art waste water treatment plants.
If integrated in the continuous annealing and processing line all processes react with high flexibility on the changing line speeds defined by the heat treatment furnace.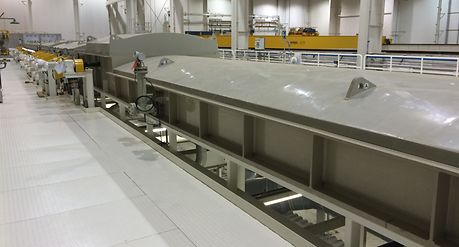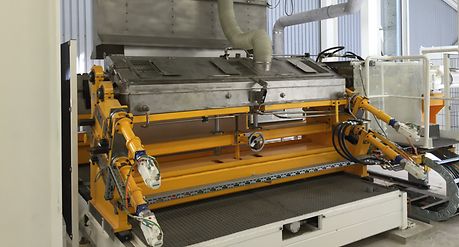 Benefits
High efficient degreasing / cleaning process

Flexible pickling control by contact time

Alcoa 951 pre-treatment references

Accurate and uniform conversion layer application

Fast and automatic conversion product change

Easy spray bar removal

Quick squeeze roll changing

References with stainless steel and polypropylene treatment tanks

Waste water treatment

Utility supply (DI water, hot water boiler)