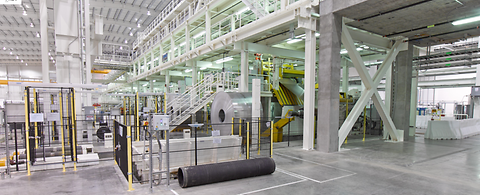 Continuous annealing and processing line
Customized annealing and pickling lines for aluminum - as individual process lines or combination lines - especially for automotive and aerospace strip
ANDRITZ provides customized and full integrated annealing and processing lines, combining heat treatment and surface treatment process or as individual process lines, especially for automotive and aerospace strip. The annealing or solution heat treatment followed by the quench allows the production of high strength and high ductility alloys. The surface treatment is applied inline according the automotive manufacturer's requirements to enhance adhesive bonding, paint ability and weld ability for the car body production.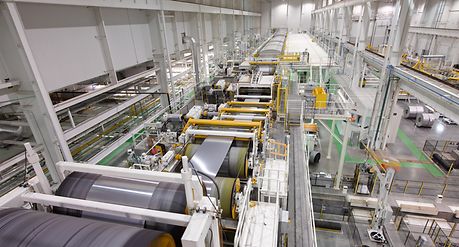 The line processes aluminum alloys coming from cold rolling mill, both mill finish or with electric discharge texture (EDT) surface. The material first undergoes surface cleaning to remove residues of rolling oil and EDT dust. The entry section operates full automatic with optimized scrap handling. Head and tail of the strip are connected by the well-established stitching technology. Our proprietary form-fit-bending machine provides a flat strip to the flotation furnace.
Thermal processing is carried out as annealing or solutionizing depending on the alloy specific requirements of the final product. The water quench allows production of high strength and high ductility heat treatable alloys. Thermal stresses produced by the rapid cooling of the strip in the furnace are removed by tension leveling using rubber rolls or steel cassettes at controlled elongation rates.
The pickling (de-oxidizing) process uses spray or immersion treatment to remove the mechanical disturbed layer and oxides formed in the heat treatment process. The passivation coating is done according automotive manufactures requirements to enhance adhesive bonding, welding and painting properties. The main passivation products used are Alcoa 951 and Ti/Zr based conversion coatings. ANDRITZ offers coating technologies for all products:
Spray
Immersion
Roll-Coater
The coating weight in spray and immersion conversion sections is controlled by flexible contact times. The roll-coater controls the wet film thickness, which is dried and bonded to the strip surface in the subsequent Peak Metal Temperature (PMT)-Dryer.
In the exit section the strip surface is inspected automatically and marked according final customer requirements. The ANDRITZ Metals recoiling temperature model controls the pre-aging furnace and the temperature at the recoiler. The level 2 system provides set-points for all process sections as well as the electrostatic oiler. Oil and hot melt (dry lube) film thickness is monitored online. The exit section operates full automatic using the high speed exit shear to cut samples or for the production of daughter coils. Final products may be side trimmed and cut to length of strip to produce tailored sellable coils.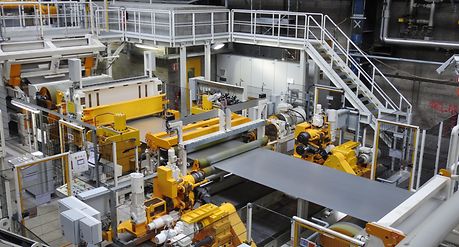 Benefits
High strip quality from an optimized annealing and pickling process
Full automatic entry and exit section
Stitcher with integrated lubrication
References with high capacity floatation furnace
Excellence in surface treatment technology
Alcoa 951 pre-treatment references
Fast and automatic conversion product change
Recoiling temperature model