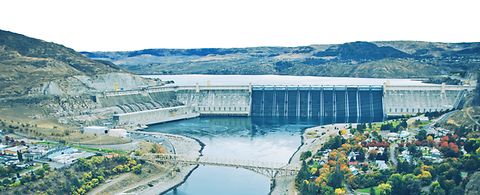 Largest-ever automation order for ANDRITZ Hydro
Major modernization project for pump-generating plant at Washington's Grand Coulee Dam
On April 12, 2019, the United States Bureau of Reclamation awarded ANDRITZ the Grand Coulee John W. Keys III major automation modernization contract. The deal is a further vote of confidence for ANDRITZ, which has successfully been carrying out turbine and generator rehabilitations at the Grand Coulee Dam for over 20 years.
Located on the Columbia River in Washington, Grand Coulee Dam is the largest hydropower facility in the United States with 36 units in four powerhouses and a total capacity of 6,809 MW. The facility also supplies irrigation water to 2,700 km2 of farmland.
Under this new contract, ANDRITZ will modernize the entire automation systems at the John W. Keys III pump-generating plant with new digital excitation systems, protection relays, unit controls and turbine governor systems for all six pumping units and pump-generating units. The new systems will enable completely automated control and monitoring processes.
ANDRITZ will also remove the existing systems including the cable and cable tray/raceways, as well as install, commission and test the new systems. The first outage will start in November 2020 and the last two units will be completed in March 2026.
This order is the largest ever automation order for ANDRITZ Hydro and represents the culmination of considerable work and cooperation between many areas within the company.

GRAND COULEE DAM TECHNICAL DATA:
Total output: 6,809 MW
Output scope: 623 MW
Head: 90 m
Speed: 200 rpm
Voltage: 13.8
IMPORTANT TURBINE UPGRADE ORDER AT THIRD POWER PLANT
Currently, ANDRITZ Hydro USA is overhauling units G22, G23 and G24 at Grand Coulee's third power plant. The components are huge: The G22, G23 and G24 rotors are 18.74 meters in diameter and weigh 1,480 tons each, while the Francis runners are 9.9 meters in diameter, 5.5 meters high and weigh 430 tons. The output of each unit is 805 MW.
ANDRITZ has completed the rehabilitation of two units (PAC) ahead of schedule, achieving early completion bonuses, and is in the process of disassembling the last unit for its rehabilitation.