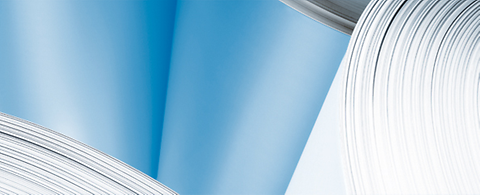 ANDRITZ to supply another paper machine to Zellstoff Pöls, Austria
2018/01/19
International technology Group ANDRITZ has received an order from Zellstoff Pöls AG, Austria, to supply a large paper machine for the production of bleached kraft paper grades.
At the Pöls location, the ANDRITZ PrimeLine MG plant will produce environmentally friendly MG paper for flexible packaging and release applications. With an annual capacity of 100,000 t and a design speed of 1,400 m/min., PM3 is setting a new benchmark in the production of this type of product. The unique machine design enables the production of grades with low basis weight and highest strength at best printability and smoothness levels. Start-up is scheduled for mid-2019.
The scope of supply comprises the entire stock preparation line and approach flow system. One key component is the ANDRITZ Vertical Screw Thickener, which thickens the pulp efficiently from a consistency of three percent to between 25 and 30%. The complete MG paper machine with its high-precision MG cylinder is the centerpiece of the plant. The PrimeDry MG cylinder with a diameter of 24 ft (7.315 m) will be the largest of its kind worldwide. Besides full responsibility for the technology, the ANDRITZ scope of supply also includes the automation equipment, an extensive range of services, and the basic and detail engineering.
This order confirms the very successful partnership between Zellstoff Pöls and ANDRITZ. At the end of 2013, both partners successfully started up PM2 at the Pöls location, and this has been the benchmark for MG specialty paper machines worldwide ever since then.
With this investment, Zellstoff Pöls – the largest manufacturer of high-quality Elemental Chlorine-Free (ECF) sulfate pulp from bleached softwood in Central and Southeastern Europe – is extending its paper production capacities for MG paper grades at the site in Pöls.
- End -
ANDRITZ GROUP
ANDRITZ is a globally leading supplier of plants, equipment, and services for hydropower stations, the pulp and paper industry, the metalworking and steel industries, and for solid/liquid separation in the municipal and industrial sectors as well as for animal feed and biomass pelleting. Other important business segments include automation and service business. In addition, the international Group is also active in the power generating sector (steam boiler plants, biomass boilers, recovery boilers, and gasification plants) and in environmental technology (flue gas cleaning plants) and offers equipment for the production of nonwovens, dissolving pulp, and panelboard as well as recycling plants. The publicly listed technology Group is headquartered in Graz, Austria, and has a staff of approximately 25,700 employees. ANDRITZ operates more than 250 sites in over 40 countries.
ANDRITZ PULP & PAPER
ANDRITZ Pulp & Paper is a leading global supplier of complete plants, systems, equipment, and comprehensive services for the production and processing of all types of pulp, paper, tissue, and cardboard. The technologies cover the processing of logs, annual fibers, and waste paper; the production of chemical pulp, mechanical pulp, and recycled fibers; the recovery and reuse of chemicals; the preparation of paper machine furnish; the production of paper, tissue, and cardboard; the calendering and coating of paper; as well as the treatment of reject materials and sludge. The service offering includes system and machine modernization, rebuilds, spare and wear parts, on-site and workshop services, optimization of process performance, maintenance and automation solutions, as well as machine relocation and second-hand equipment. Biomass, steam, and recovery boilers, as well as gasification plants for power generation, flue gas cleaning plants, plants for the production of nonwovens, dissolving pulp, and panelboard (MDF), as well as recycling plants are also part of this business area.