Austria - Air transport of a turbo generator stator
At the end of July 2013, ANDRITZ HYDRO received an order for the manufacturing of a 112 MVA spare stator turbogenerator for a project in Florida, USA.
The time schedule was tight and ANDRITZ HYDRO, with its manufacturing center in Weiz, Austria, was the only company capable of guaranteeing the delivery at highest quality within three months.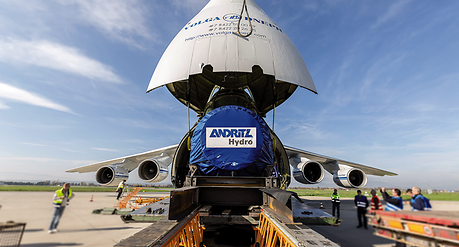 To keep the downtime of the power station short unusually it was decided to transport the 90 ton heavy stator by aircraft rather than by ship as is more commonly done. Therefore, one of the largest transport aircraft currently flying, an Antonov 124 was hired.

After two stopovers (in Ireland and Newfoundland) the Antonov landed in Florida and the stator was immediately installed. Only two weeks later the generator was operating again.

TECHNICAL DATA
| | |
| --- | --- |
| Output: | 95 MW/112 MVA           |
| Voltage: | 13.8 kV |
| Speed: | 3,600 rpm |