Thailand - Nam Pung
In February 2015, ANDRITZ HYDRO was awarded a contract from Ferro Atlántica S.A. for the replacement of the spiral casing of all three units and the rehabilitation of turbine, generator, and auxiliary equipment at Castrelo hydropower plant in Spain.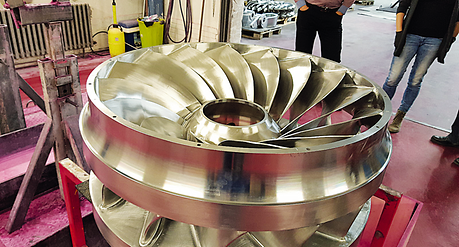 Located on the Nam Pung River, in southern Thailand, HPP Nam Pung is one of five small hydropower rehabilitation projects on this river.
The hydropower plant consists of one powerhouse with two 3.15 MW Francis units, which have been operating since 1965. Both units will now be modernized to improve the efficiency of the turbines.
ANDRITZ HYDRO will provide design, manufacturing, delivery, installation supervision, and commissioning of the runner, governor, mechanical auxiliaries, generator, excitation, control, protection, and EPS for unit #2 and governor, automation, EPS and other auxiliary equipment for unit #1. The manufacturing of the runner was completed by beginning of September 2015. The project will be executed by ANDRITZ HYDRO China in collaboration with ANDRITZ HYDRO Austria.  
This is the first hydropower project for ANDRITZ HYDRO China in Thailand. Commissioning of unit #1 is scheduled for May 2016, unit #2 is due to be put into operation in April 2017. The electricity generated is destined for domestic use.
Technical data
| | |
| --- | --- |
| Output: | 2 x 3.15 MW |
| Voltage: | 3.3 kV |
| Head: | 85 m |
| Speed: | 750 rpm |
| Runner diameter: | 820 mm |