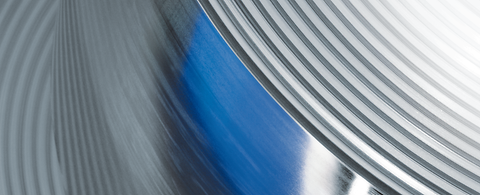 ANDRITZ METALS wins prestigious Energy Globe Award for nitrate-free production of stainless steel
2015/06/10
International technology Group ANDRITZ has been awarded the Energy Globe Award, one of the world's most prestigious environment awards, for its environmental protection technologies PYROMARS and ZEMAP.
The technologies developed by ANDRITZ enable a nitrate-free production of stainless steel.
The PYROMARS technology was developed to recover the hydrofluoric and nitric acid, which is consumed in the production of stainless steel, from the pickling process (waste pickling acid) and re-use it in the same process. With the new ZEMAP technology (ZEMAP: Zero Effluent Mixed Acid Pickling), the effluent from the rinsing section is treated and then regenerated. The acid-containing concentrate from the ZEMAP plant is treated and regenerated in the PYROMARS system, and the pure condensate is used again subsequently in the rinsing section.
ANDRITZ supplied the first plant combining PYROMARS and ZEMAP technologies to Walsin Lihwa. With these technologies, the Taiwanese steel producer is currently building the first stainless steel plant worldwide that can be operated nitrate-free.
The Energy Globe Award has been presented since 1999 for outstanding, sustainable projects focusing on conservation of resources, energy efficiency, and use of renewable energies.
– End –

The ANDRITZ GROUP
ANDRITZ is a globally leading supplier of plants, equipment, and services for hydropower stations, the pulp and paper industry, the metalworking and steel industries, and for solid/liquid separation in the municipal and industrial sectors. The publicly listed technology Group is headquartered in Graz, Austria, and has a staff of almost 25,000 employees. ANDRITZ operates over 250 sites worldwide.

ANDRITZ METALS
ANDRITZ METALS is the technology and global market leader in metalforming via the Schuler Group, in which ANDRITZ has a stake of more than 95%. Schuler offers presses, automation solutions, dies, process know-how, and services for the entire metalworking industry. Its customers include car manufacturers and their suppliers, as well as companies in the forging, household equipment, packaging, energy, and electrical industries. Schuler is also the market leader in coin minting technology and offers system solutions for the aerospace and railway industries. In addition, ANDRITZ METALS is one of the leading global suppliers of complete lines for the production and processing of cold-rolled strip made of stainless steel, carbon steel, aluminum, and non-ferrous metal. The lines comprise equipment for cold rolling, heat treatment, surface finishing, strip coating and finishing, punching and deep drawing, and for the regeneration of pickling acids. The business area also supplies turnkey furnace systems for the steel, copper, and aluminum industries, as well as welding systems for the metalworking industry.