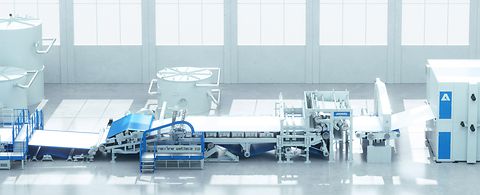 neXline wetlace™ CP
Combination of drylaid and wetlaid components for web forming for the processing of natural fibers
Innovative processes: We offer fully engineered production lines integrating the right equipment for so-called carded-pulp (CP) lines: cost-efficient, flexible, and reliable. These processes combine the benefits of two technologies: WetlaceTM and spunlace. Natural fibers can be processed smoothly and generate a high performance and cost-efficient wipe. Of course this technology opens up other variation like Wetlace CPC or Wetlace Hybrid.
The carded pulp (CP) process
The neXline CP is equipped with state-of-the-art stock preparation, including approach flow and fan pump, opening and blending, carding including chute feed, a wetlaid forming unit, hydroentanglement including optional patterning, filtration unit, dewatering, through-air drying and end-of-line equipment. All components are perfectly arranged to produce a first-class biodegradable wipe with two layers.

Features
Capacity: up to 25,000 t/a
Line width: up to 4.8 meters
Sustainable fibers: wood pulp and other cellulosic (staple) fibers

The carded-pulp-carded (CPC) process
In order to create a three-layer wipe, an additional card can be added to the carded-pulp process. This opens the door to fiber mixtures with even higher added value and offers high and stable functions while using only biodegradable raw materials. A pulp layer in the middle is perfectly surrounded by the carded, e.g. viscose, layers and hence offers additional properties.


Discover more ANDRITZ technologies for the production of sustainable wipes: