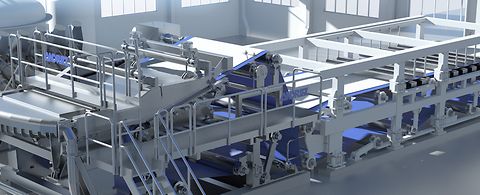 Wetlace line solutions
Build up your future in wetlace
The original Wetlace nonwoven process has been developed by ANDRITZ and combines wet forming and hydroentanglement. It has proven ideal for producing flushable wipes from 100% natural raw materials without chemical binders. Fabrics produced using the ANDRITZ Wetlace nonwoven process already complied with the EDANA/INDA flushability standards in 2011 and again in 2013, passing all seven tests according to the new guidelines.
Thanks to the flexibility of the ANDRITZ neXline wetlace, any other kind of wipes can be produced, too, such as industrial wipes.
100%
flushable, dispersible, biodegradable
all 7
EDANA/INDA flushability tests passed

Advantages offered by neXline wetlace:
Complete wetlace solution from a single source
Extensive process know-how within the ANDRITZ GROUP, based on long years of experience in turnkey projects for the paper and nonwovens industries
Full project management
Full plant engineering expertise
Stable and high-quality production process
Efficient water recirculation and filtration
State-of-the-art line supervision system
Process for fully flushable, dispersible and biodegradable wipes according to the EDANA guidelines
Technical center with a wetlace pilot line for trials, product development, marketing tests and training
Complete wetlace systems by ANDRITZ
ANDRITZ is the only company providing complete wetlace systems from stock preparation to drying and winding from a single source. All components ideally complement each other to ensure a stable and high-quality production process.
Hydroentanglement of wetlaid sheets allows the production of binder-free wetlaid nonwovens. When hydroentanglement is applied to wetlaid sheets containing artificial and synthetic fibers - either pure or in blends - the economics are often improved and the mechanical properties are remarkably enhanced. This results in stronger and bulkier products. Fully biodegradable nonwovens can be produced without chemical additives or thermal bonding.
Wetlace nonwoven production is carried out in four steps in the neXline system:
Stock preparation
Fibers and water are mixed in the correct proportions.
Forming
The suspension is distributed homogeneously over the full forming width.
Hydroentanglement
The web formed is bonded by water jets.
Drying, winding
The wetlaced fabric is dried and batched.