ANDRITZ belt press CPF-Q

---
A new standard in flexible, efficient and high-throughput dewatering
The ANDRITZ belt press CPF-Q is a continuously operating, heavy-duty belt filter press manufactured in a modular design with unique flexibility. In fact, we have been working closely with customers for more than 150 years to continuously improve the lifetime value of every machine. Our latest heavy-duty belt press is part of this evolution, setting a new standard in throughput, efficiency, and reliability.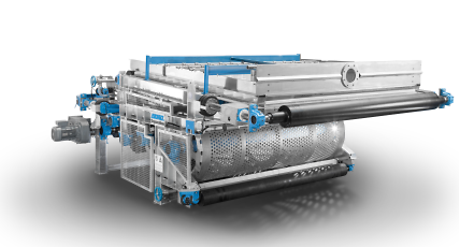 The ANDRITZ belt press CPF-Q has been developed in close cooperation with our customers in order to address the key challenges in modern dewatering and filtration. Despite its small footprint, the robust design contains an impressive array of features, including a reliable belt tension system and a flexible drive (hydraulic or electric). Compared with conventional belt presses, the cost of ownership is minimal, remote service is simple, and a greatly extended lifetime of high availability makes the machine reliable, simple, and cost efficient to operate.
Your benefits
Highest throughputs of up to 50% more than comparable competitor machines
Lowest required residual moisture of final product
Optimized flocculant consumption (e.g. with RheoScan system)
Reliable non-stop operation and highest availability
Flexible operating parameters (e.g. belt speed and belt tension as well as filtration pressures can be adjusted acc. to process requirements)
Modular design, small footprint, and easy to access and maintain
Key feature
A key technological feature in the ANDRITZ belt press CPF-Q is its optimized roll geometry. This means that each roll's unique size and arrangement contributes maximum throughput and minimal residual moisture. The optimized roll geometry ensures a continuous pressure increase to achieve the perfect dewatering characteristics.
Peak performance
We have also managed to further enhance performance to deliver lower residual moisture, higher throughput, and more flexible to changing feed conditions than any other belt press on the market. To reduce the costs of consumables, flocculant consumption can be optimized via an intelligent flocculant dosing system (e.g. RheoScan) to consistently deliver a more homogeneous material feed. 
Whatever your process requirements, the ANDRITZ belt press CPF-Q can be adapted easily to give you better control and performance in your dewatering operations than ever before.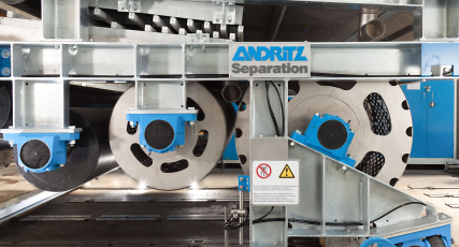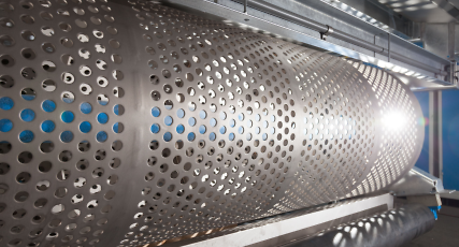 Mining & Minerals
Tailings from the mining and coal industries
Contaminated soil
Harbour sludge
Dredgings
Oxalate in alumina refineries
Various industrial sludges

Chemicals
Cooking slurry
Various other chemical applications

Environment
​​​​​​​Residue from quarries