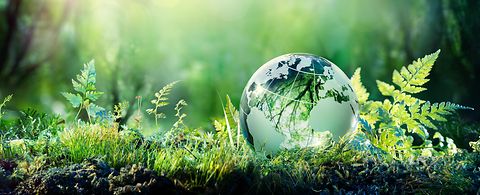 Protecting the environment and conserving natural resources
ANDRITZ is committed to promoting environmental protection and conservation of natural resources.
All plants and systems delivered to ANDRITZ customers around the world comply with the highest environmental standards and meet the demand for environmentally beneficial and efficient products . Moreover we want to reduce our own carbon footprint.
Climate protection
ANDRITZ is convinced that it can make a large contribution towards protecting the environment in order to ensure a healthy future for coming generations. Thus, environmental protection in our own operations, including prevention of pollution and conservation of natural resources, is one of ANDRITZ's leading principles and core goals.
As we are fully aware of the negative impacts of climate change and know that it is crucial to reduce greenhouse gas emissions in order not to compromise progress in sustainable development, we are determined to substantially reduce our own carbon footprint. Efforts are underway at the ANDRITZ production locations to enhance energy efficiency and increase the proportion of renewable energy resources.

Our target
Reduction of ANDRITZ's CO2 emissions (Scope 1, Scope 2) by -50% compared to 2019 by 2025
In addition to minimizing our own carbon footprint, we are also focusing strongly on the development of sustainable solutions and products that help our customers to achieve their sustainability targets and make use of resources as economically and efficiently as possible. In many cases, these technologies also help to build up a stable infrastructure, promote sustainable industrialization and drive innovations.
ANDRITZ offers a broad range of sustainable solutions and products that help to protect the environment, contribute towards decarbonization or carbon neutrality, reduce the use of valuable resources, such as water, or recycle them, e.g. in wastewater treatment plants, or help to maintain biodiversity. Sustainable solutions that contribute to a circular economy or reuse side-stream resources are also included in this range, as are measures to extend the lifespan of equipment and machines through predictive maintenance.

Our target
Increase of the share of sustainable solutions and products to over 50% of the Group's total revenue by the end of 2025
Product quality and safety
Highest product quality and safety have the utmost priority in our daily work and operations. ANDRITZ has implemented a comprehensive quality management system to monitor and ensure that all our products, technologies and projects are planned, engineered and processed according to the strictest safety and environmental requirements and are also certified internally and externally. All our products must meet the highest standards and are checked regularly for potential health and safety impacts.
Cybersecurity is also a major part of product quality and safety. ANDRITZ offers a broad range of products to protect confidential data and avoid loss of data through cyberattacks. We are constantly looking to enhance the cybersecurity solutions we offer to our customers as well as to other industries.
Protection of resources
All ANDRITZ initiatives incorporate the ultimate goal of ensuring highest environmental protection. We strive to minimize the environmental impact of our own operations and production facilities and to optimize environmental and resources management. The goal is to achieve better use and yield of materials utilized in production, thus producing less waste. Ideally, the raw materials used should be fully recyclable or reusable and, as a result, contribute to a circular economy. We are fully committed to continuously reducing our water consumption and producing less waste to protect the Earth's natural resources.
Hence, basically all our locations have introduced an environmental management system or already have ISO 14001 certification.

Our target
Decrease of annual water consumption by 10% compared to 2019 and reduction of waste volume generated by -10% compared to 2019, both by the end of 2025
Read how ANDRITZ solutions and products support sustainable development...