Gouvães, Portugal
Upper Bifurcator hydraulic pressure test successful conducted
Beginning of August 2020, the hydraulic pressure test of the large bifurcator at Gouvães pumped storage plant was successfully conducted. The results of the sound test were also very satisfying.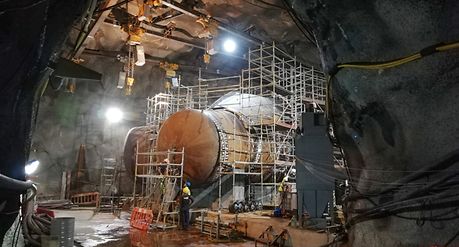 The upper bifurcator was prefabricated and test-assembled in Austria for the purpose of measurement. It was delivered in parts to the construction site in Ribeira de Pena, Portugal. After installation at the final destination, the bifurcator was equipped with pressure covers and successfully subjected to a pressure test with 100 bar (corresponding to a head of 1,000 m).
ANDRITZ Hydro has been contracted by the Spanish energy utility Iberdrola Generación S.A.U. to supply the electro-mechanical equipment and the penstock for the new pumped storage power plant Gouvães in Portugal in 2017. The scope of supply comprises design, manufacturing, delivery, and installation supervision for the reversible pump turbines, motor generators, and electrical power systems as well as design, manufacturing, supply, and complete installation of a penstock including three bifurcators with a total weight of about 12,000 tons, an average diameter of about 5,400 mm and a length of 2.5 km.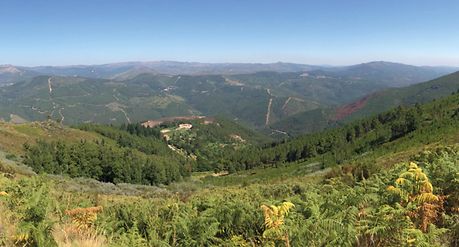 With four 220 MW pump turbines PSPP Gouvães will be the heart of the Alto Támega hydropower scheme, consisting of three hydropower plants. The scheme will be built on the Támega River in northern Portugal, close to the seaport of Porto. ANDRITZ Hydro is supplying hydraulic steel structures for the entire hydropower complex. Besides Gouvães, contracts for design, manufacturing, delivery, installation supervision and commissioning for Daivões und Alto Támega were also awarded. All three power plants will produce in total 1,766 GWh of electrical energy.
Technical Details
| | | |
| --- | --- | --- |
| Output: | 880 MW |   |
| Head: | 657 m | |
| Diameters: | 5400 / 3800 / 3800 mm | |
| Thickness: | 46 – 150 mm | |
| Weight: | 225 tonnes | |
| Quality of the steel: | S620QL bzw. S620ML | |