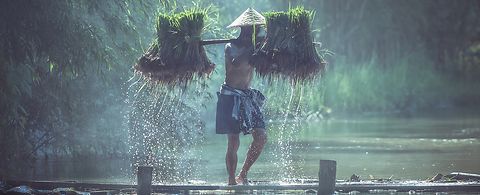 Hydropower in Asia
Facts and figures
With a total installed capacity of about 519 GW, of which some 74 GW is pumped storage, Asia is home to over a third of the world's total hydropower generation. More than 12 GW of additional hydropower capacity was commissioned across the region in 2018, with 8.5 GW in China alone – more than in any other part of the world.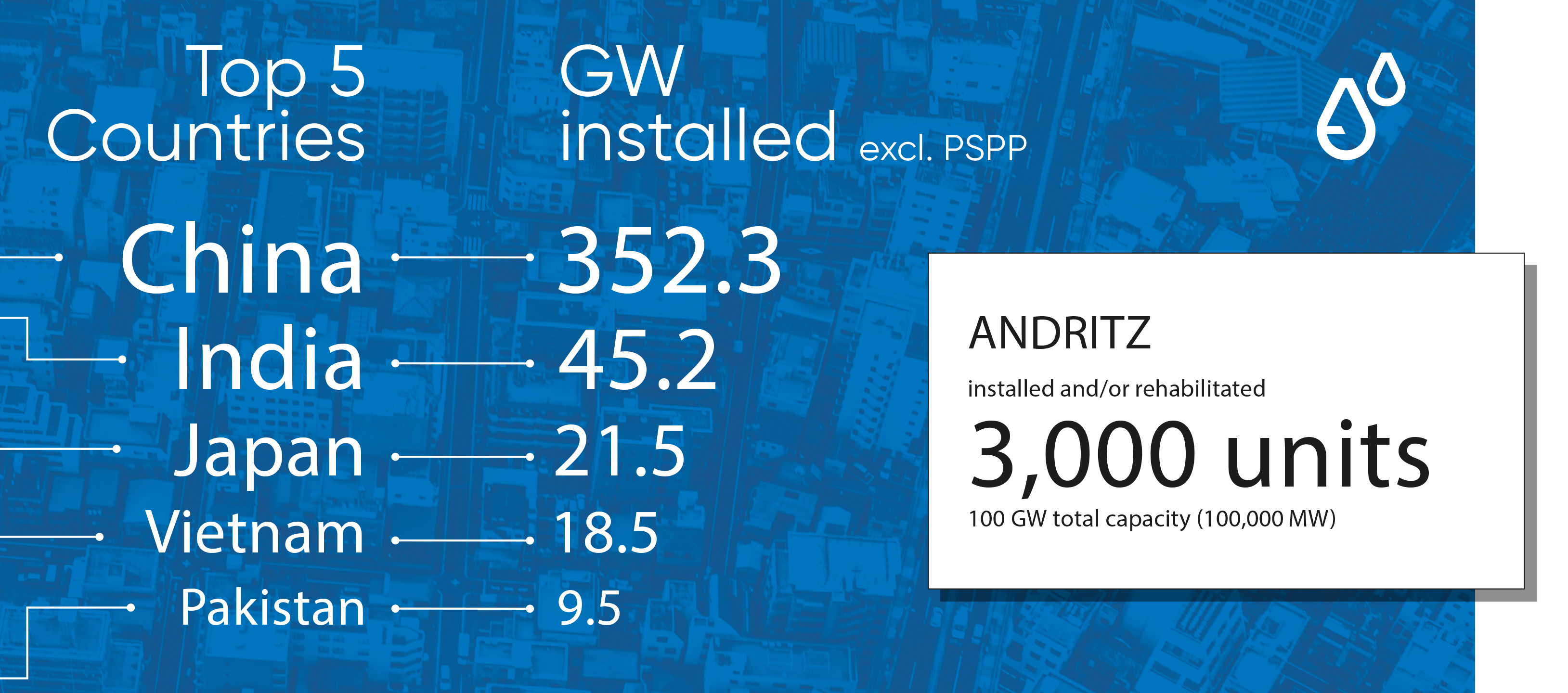 Hydropower is playing an important role in many countries across Asia. Growing demand prompted by demographic changes and economic growth is being increasingly met with renewable energy sources, including hydro.
Ambitious goals to raise the share of renewables is also boosting demand for pumped storage in particular. Able to balance other more variable sources of renewable power generation, pumped storage capacity provides grid stability, helping to achieve independence from fossil fuels.
With its long history of hydropower development, Asia continues to offer interesting business opportunities in the modernization and rehabilitation of the hydropower fleet. Many installations are more than 40 years old, especially in the former GUS member states.
Many Asian countries are developing the necessary market liberalization measures and adopting appropriate legal frameworks to encourage infrastructure investment. In combination with environmentally-friendly, flexible, cost-effective and constantly evolving sustainable technology, this creates many attractive prospects for hydropower in this dynamic and diverse region.
Source: (HP&D World Atlas 2019, IHA Status Report 2019)
Country / Capacity in MW
| | | | | |
| --- | --- | --- | --- | --- |
| | Afghanistan: 330.00 MW | | Bangladesh: 230.00 MW | |
| | Bhutan: 1,615.00 MW | | Cambodia: 1,330.00 MW | |
| | China PDR: 352,260.00 MW excl. pspp | | Taiwan: 2,092.00 MW | |
| | India: 45,217.00 MW | | Indonesia: 5,742.00 MW | |
| | Japan: 21,580.00 MW excl. pspp | | Kazakhstan: 2,456.00 MW | |
| | Korea North: 5,474.00 MW | | Korea South: 1,789.00 MW excl. pspp | |
| | Kyrgyzstan: 3,065.00 MW | | Laos: 7,213.00 MW | |
| | Malaysia: 6,095.00 MW | | Mongolia: 28.00 MW | |
| | Myanmar: 3,477.00 MW | | Nepal: 1,074.00 MW | |
| | Pakistan: 9,500.00 MW | | Philippines: 3,701.00 MW excl. pspp | |
| | Sri Lanka: 1,768.00 MW | | Tajikistan: 6,000.00 MW | |
| | Thailand: 3,561.00 MW incl. pspp | | Timor Leste: 0.40 MW | |
| | Turkmenistan: 5.00 MW | | Uzbekistan: 1,889.00 MW | |
| | Vietnam: 18,548.00 MW | | | |
| | OCEANIA | | | |
| | Australia: 8,044.00 MW incl. pspp | | Fiji: 148.00 MW | |
| | French Polynesia: 47.00 MW | | New Caledonia: 78.00 MW | |
| | New Zealand: 5,381.00 MW | | Papua New Guinea: 198.00 MW | |
| | Samoa: 13.20 MW | | Solomon Islands: 0.15 MW | |
| | Vanuatu: 0.60 MW | | | |
| | | | | |
Source: Hydropower & Dams Worldatlas 2019