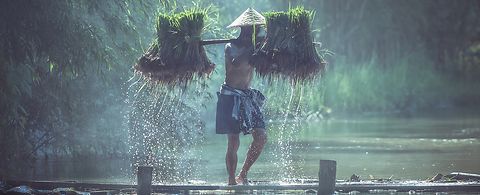 Water scarcity or excess
Engineered pumps solve it
The earth's small supply of freshwater – only 3% of the total – is very unevenly distributed across the planet. By causing either more frequent and severe flooding in one area or long draughts in another, climate change is further intensifying this regional inequality. Asia is a prime example in this repsect, as it is facing serious water issues. Thanks to its wide range of engineered pump solutions, ANDRITZ has been continuously supporting numerous countries around the world in sustainably handling any given water resources issues.
Case 1: India - Water scarcity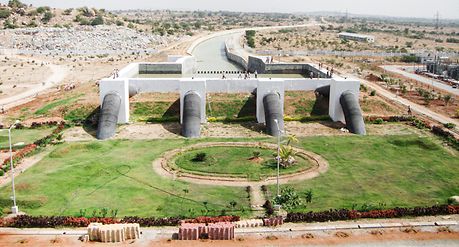 In recent years, India has been hit by extremely high temperatures, causing droughts and creating problems for agriculture, economic development, and human lives. With a series of irrigation projects within the overarching Jala Yagnam project, local government has undertaken measures to provide sustainable irrigation for about 3.3 million ha of agricultural land.
ANDRITZ supports this mega infrastructure project across numerous sub-projects with its customized vertical volute pumps. For the Bheema sub-project, ANDRITZ supplied three of these pumps for two pumping stations between 2008 and 2009. The first of these, with three units, conveys 63 m3/s of water to a level 38 m higher. From there, the water flows through canals to a second pumping station, which conveys approximately 32.3 m3/s into a further canal system that is 22 m higher.
ANDRITZ manufactured even larger pumps for the Kalwakurthy station. Dimensioned for a total flow rate of 115 m3/s, the five vertical volute pumps, each with an output of 30 MW, reliably pump this enormous volume of water to a head of 86 m. Large vertical volute pumps are ideal when very large volumes of water need to be conveyed over long distances. A special aspect of these pumps is that they are very similar to turbines due to their size and integrated guide vane mechanism. The guide vane mechanism is adjusted by means of a hydraulic servomotor to suit the changing tailwater level to achieve better efficiencies.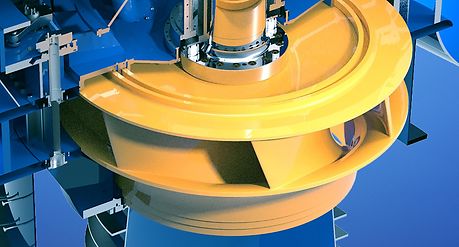 Currently, ANDRITZ is manufacturing some of the 27 vertical volute pumps destined for three pumping stations at the ­Kaleshwaram project. This is one of the largest sub-projects, designed to store about 4.7 trillion liters of water to irrigate 740,000 ha. Comprising a dam and several pumping stations with reservoirs, the solution requires water transport over a height of 500 m and a distance of 200 km. It is the first multi-stage lift irrigation project of this magnitude worldwide. Each pump has an efficiency of up to 90% and achieves heads between 25-107 m and flow rates of 31.1-83 m3/s. The first of the three pumping stations was completed in December 2019, while the remaining will follow in Q2 2020 and Q1 2021.
Case 2: Vietnam - Water Excess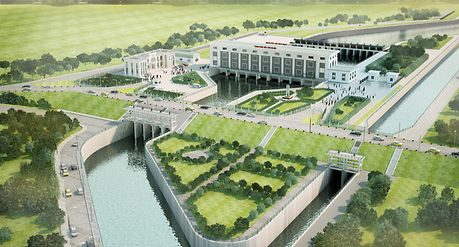 In contrast to India, Vietnam is one of the rainiest countries in the world. The incoming annual monsoon causes flooding as rivers and streams burst their banks. According to forecasts by the International Panel on Climate Change, the future scenario for Vietnam becomes worse as even higher rainfall is predicted in those months that already experience the most precipitation.
To contain these severe effects, the Vietnamese Ministry of Agriculture and Rural Development has launched numerous flood control projects. The Yen Nghia project marks the beginning of this initiative. ANDRITZ supplied 10 vertical line shaft pumps from April to August 2018 for the biggest flood discharge pumping station in the country. Located near Hanoi and specially designed for flood control applications, the pumps are only activated in case of need, but then have to work 100% reliably. Therefore, each pump has an axial hydraulic and extremely robust design to successfully defy diverse materials washed away by floods. Each pump conveys up to 15 m3/s of water.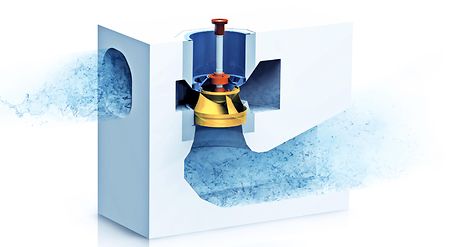 Doan Ha is another pumping station designed for flood protection and irrigation. Located in the Thanh Thuy district of PhuTho Province, it will have the capacity to reliably irrigate up to 672,000 m2 of paddy land and drain up to 2,122,000 m2 of agricultural land if necessary. ANDRITZ received the order to equip the station with two concrete volute pumps. ANDRITZ has been successfully installing these pumps — based on the Kaplan turbine design principle — around the world since 1926. They are the best technological and economic solution when it comes to transporting large volumes of water. The concrete casing has a long life cycle, is resistant to erosion as well as brackish and salt water and requires no maintenance whatsoever. Each pump achieves a flow rate of 12.5 m3/s at a maximum head of 8.15 m with an efficiency of up to 88%. Both the 1,000 kW motors and pumps are monitored fully automatically by a monitoring and control system. The completion of the pumping station is scheduled for mid-2020.
Case 3: China - Water Transfer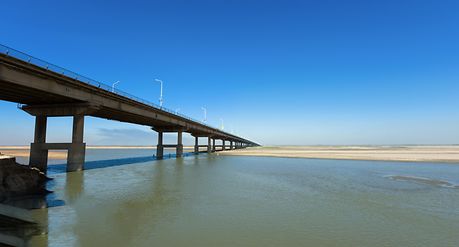 China is facing the difficult situation of having 80% of its water resources in the southern part of the country, but 64% of the agricultural land and more than 50% of the population is in the north. In order to solve this problem, China started the South-North Water Transfer Project in 2002. Primarily based on three main routes – eastern, central, and western – it will transport 44.8 billion m3 of water from the wet south to the dry north every year from 2050 onwards.
ANDRITZ has been supporting China in this mega endeavor and other water projects for years. In November 2010, for example, 12 double-suction pumps went into operation at the Xijiang Intake Pumping Station. They are designed for a flow rate of approximately 4 to 5 m3/s, operating at heads of 35 to 42 m and with an efficiency of up to 91%. The station itself supplies around 45 m3 of water per second over a distance of 40 km to guarantee the needs of the growing metropolis Guangzhou.
Moreover, the Hui Nan Zhuang pumping station is equipped with eight ANDRITZ horizontally split double-suction pumps, among the world's largest double-suction split case pumps. It is the only pumping station on the central water supply channel for the South-North Water Transfer Project. The pumps convey a total of 60 m3 of water per second over a distance of some 60 km to provide a safe drinking water supply to Beijing.
In 2019, ANDRITZ also received the order to supply four two-stage vertical volute pumps for the Shanxi Xiaolangdi Yellow River Diversion Project. This sub-project of the central route is designed to divert 247 ­million m3 of water annually. For this, water from the Yellow River will be transported to a subsurface pumping station through a 6 km-long tunnel. The pumping station is equipped with four pumps conveying the water to an artificial lake roughly 60 km away. These customized pumps achieve a flow rate of 5 m3/s over a head of 236 m at more than 91% efficiency. Optimum flow in the volute is achieved due to its individual shaping, which also guarantees a high level of efficiency. As the Yellow River conveys large quantities of sand, the pumps will be provided with a special abrasion-resistant coating. Delivery, installation, and start-up of the ANDRITZ pumps are scheduled to take place in about two years.