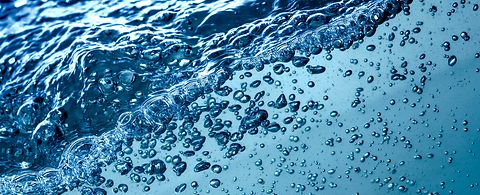 Green Hydrogen
Green Hydrogen is an important enabler for the energy transition in three sectors – industry, transport, and energy storage. It has the potential to reduce greenhouse gases by 5–6 gigatons per year, which is approximately 15% of the global greenhouse gas emissions.
ANDRITZ has established its Green Hydrogen team in 2021 with international team members mainly located in Austria.
With our strong competence for electrochemical processes, global experience in turnkey and EPC and high competence in best-cost manufacturing, ANDRITZ provides the perfect setup needed to deliver a safe, reliable and efficient hydrogen plant for your business.
ANDRITZ combines worldwide plant building experience as an EPC company, including design & engineering, civil and installation services in four core business areas – Hydro, Metals, Pulp & Paper and Separation.
Therefore, for our Green Hydrogen business, ANDRITZ can build on its vast EPC and turnkey experience to realize projects in selected markets for hydrogen plants in addition to the core equipment and services.
Moreover, water electrolysis is complementary to ANDRITZ's larger product portfolio, including:
   • carbon capture and production of e-methanol in pulp mills
   • steel plants (DRI)
   • hydropower plants.
Cooperations: active cooperation with HyCentA and Fraunhofer ISE.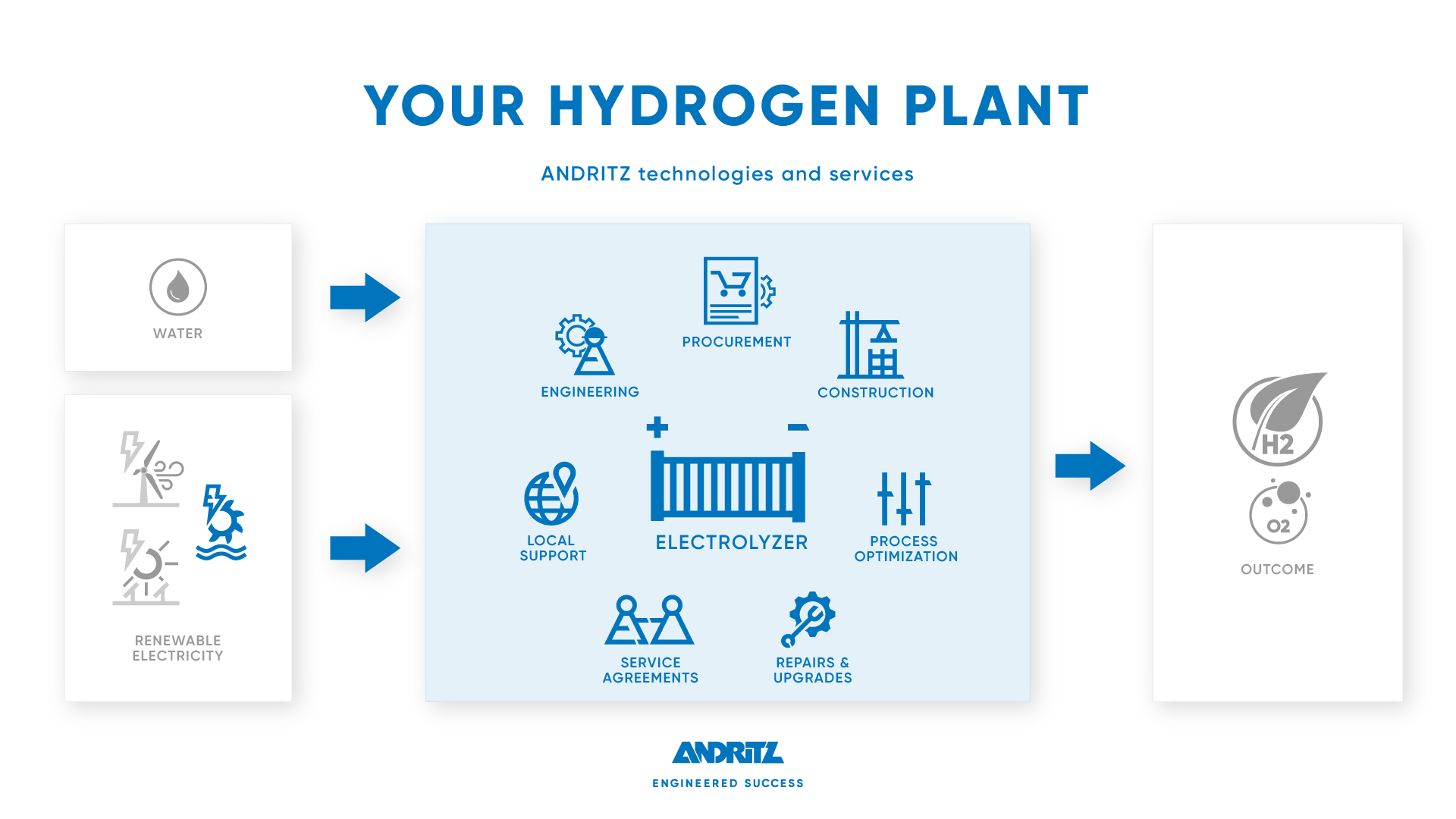 Vision
Become a leading global green hydrogen solution provider
Mission
ANDRITZ will be a major player in the green hydrogen ecosystem to contribute to reduce greenhouse gases by 5-6 Gt/a (~15% of total GHG emission).
The electrolysis system is the group of components that ensures operation of the electrolysis stack, which is the central element in which water is split into hydrogen and oxygen using electricity. ANDRITZ is technology open regarding electrolyzers. Currently, we are entering the market with AEL (Alkaline Electrolysis) and preparing for the market entry with PEM (Proton Exchange Membrane).
ANDRITZ Green Hydrogen targets:
Be a major global electrolysis solution provider based on AEL and PEM technologies
Deliver by optimized manufacturing and supply chain management
Reliable high quality - ANDRITZ as trustful partner
Leader in total cost of ownership: competitive CAPEX and low specific energy consumption
100% autonomous plant: remote control
Service including performance management and predictive maintenance
R&D in coming electrolyzer technologies (AEM, SOEL)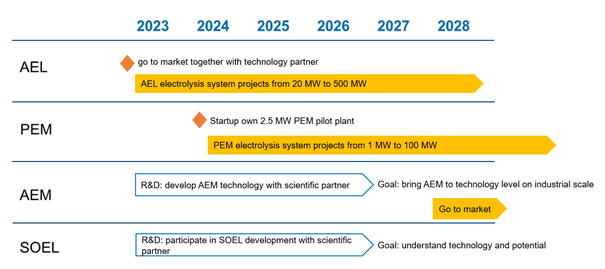 Hydrogen touchpoints along ANDRITZ Business Areas
Pulp & Paper: electric power as side stream in the pulp mill (black liquor) as input for electrolyzer, CO2 capture technology (Example) and e-methanol.
Metals: green steel industry, stamping and welding solutions for bi-polar plates for fuel cells
Hydro: provide renewable energy for a green hydrogen plant
ANDRITZ IN THE ELECTROLYZER HISTORY
The first industrial electrolyzers were large unpressurized alkaline systems (AEL) installed in Rjukan, Norway, in 1929. The power was supplied by a hydropower station with an initial capacity of 108 MW (established in 1908 – the largest hydroelectric power plant in the world at the time). The purpose of the electrolyzers was to provide hydrogen for a Haber Bosch plant producing ammonia fertilizer. Similar installations followed, mostly in connection with hydropower (Aswan in Egypt in the 1960s, Kariba in Zimbabwe in the 1970s, Cuzco in Peru, and many more). Some of them were in operation until the late 1990s and even early 2000s. 
The ANDRITZ Metals electrochemical history is based on development of the so-called GRAVITEL cell for electro-galvanizing of steel around 30 years ago. At that time, we were the first to use iridium coating on the anode, which is used in the PEM (proton exchange membrane) stack as well today. Moreover, hydrogen is produced in our electro-galvanizing process as a by-product.