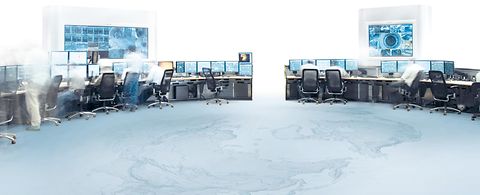 ANDRITZ presents comprehensive digital product portfolio at the Hanover Trade Fair
2018/04/20
International technology Group ANDRITZ is presenting its innovative IIoT (Industrial Internet of Things) solutions, which have been tried and tested worldwide in many reference plants, at the Hanover International Trade Fair from April 23 to 27, 2018, Hall 12, Booth C 57.
Innovative digital solutions for plant and process optimization in many different industries
Intelligent sensors and condition monitoring for optimum operation and maintenance
Software and services for maximum data security and as protection against cyber attacks
The digital ANDRITZ technologies combined under the Metris technology brand reflect the very latest state of the art in the IIoT/Industry 4.0 sector and provide comprehensive support to customers in achieving their production and corporate goals in terms of increasing the efficiency and profitability of plants, optimizing the use of resources, avoiding breaks in production, and achieving highest product quality. The innovative ANDRITZ digitalization solutions also use highly user-friendly features, such as easy control via smartphone, tablet PC, or smartglasses.
The live experience with innovative products proven worldwide
Visitors to the ANDRITZ stand will be met by a team of specialists with extensive, detailed know-how in the areas of digital plant and process optimization, sensor technology, condition monitoring, augmented reality, data security, and digital B2B service business. In live demonstrations, visitors can experience the added value of Metris products and see how Metris can contribute substantially to optimizing and improving processes, operating sequences, and services.
Metris OPP: Successful IIoT solution already in use for many years
With Metris OPP (Optimization of Process Performance), ANDRITZ has had a system in use for many years to optimize operation of machines and systems. It has been modernized and expanded continuously by adding new tools such as artificial intelligence, apps, and more. There are already over 50 international corporations using Metris OPP successfully; many of which only implemented this technology in the past two years. The net benefit they have secured so far from Metris OPP is over 150 million euros. The OPP system, which is used above all in pulp and paper production, detects anomalies and deviations at an early stage by analyzing production data. Sheet breaks or other adverse effects on production can thus be predicted before they occur. As a result, countermeasures can be implemented in good time, guaranteeing reliable production and also optimizing operations, including the use of resources.
Large corporations such as Klabin, Smurfit Kappa, or Fibria have relied on the success of the OPP system for many years. ANDRITZ has now developed OPP further for use in other business areas as well and offers solutions for many different industries, such as hydropower plants or steel mills. As an integral component, condition monitoring is used to collect and analyze process data with frequency spectra of specific assets in order to form a basis for decisions regarding the scheduling of exchange and maintenance activities.
Another ANDRITZ focus at the trade fair will be smart sensor technologies, which cover both conventional analysis of measured data and signals as well as innovative micro and wireless sensor technology. This can be used to optimize plant operation by analyzing specific machine and plant parameters that are freely selected by the customer.
Based on a real model of a tissue machine, ANDRITZ will demonstrate the opportunities and advantages offered by augmented reality. Information on operating and process status is made visible where it is needed, which is on the spot at the plant itself. The technology focuses on showing the information in context so that the operating staff receives the best possible support, particularly for complex control actions.
With the Metris portal, ANDRITZ also offers global access to many innovative tools and apps in the digital service sector for its customers and also its employees. One of these is the Metris spare parts catalog. This is an interactive online platform for customers that guarantees even faster service with added value. Customers receive all the information on their plants and processes in the spare parts catalog. The spare parts needed can be identified immediately and ordered using various search functions or with the help of 3D models. Then a quote is compiled and the spare parts are delivered. Operating manuals and other relevant documents can also be retrieved via the online platform.The Metris Service Desk provides prompt and structured communication with the customer within the portal. As a result, remote maintenance assignments and planning of service missions can be dealt with immediately online.
Cyber security
In recent years, cyber threats have been growing at an unprecedented rate and increasingly targeted the safety, reliability, and productivity of established industries. Understanding that strong security means continuous monitoring and defending systems against any threats, ANDRITZ has developed – in a joint venture with a world-leading group of deep domain experts with hands-on experience in top global institutions – a state-of-the-art, comprehensive cyber security offering ranging from advanced assessments and consulting services to implementation of proven, state-of-the-art protection technologies.
- End -
ANDRITZ GROUP
ANDRITZ is a globally leading supplier of plants, equipment, and services for hydropower stations, the pulp and paper industry, the metal working and steel industries, and for solid/liquid separation in the municipal and industrial segments. Other important fields of business are animal feed and biomass pelleting, as well as automation, where ANDRITZ offers a wide range of innovative products and services in the IIoT (Industrial Internet of Things) sector under the brand name of Metris. In addition, the international technology Group is active in power generation (steam boiler plants, biomass power plants, recovery boilers, and gasification plants) and environmental technology (flue gas cleaning plants) and offers equipment for the production of nonwovens, dissolving pulp, and panelboard, as well as recycling plants.
A passion for innovative technology, absolute customer focus, reliability, and integrity are the central values to which ANDRITZ commits. The listed Group is headquartered in Graz, Austria. With over 160 years of experience, 25,600 employees, and more than 250 locations in over 40 countries worldwide, ANDRITZ is a reliable and competent partner and helps its customers to achieve their corporate and sustainability goals.