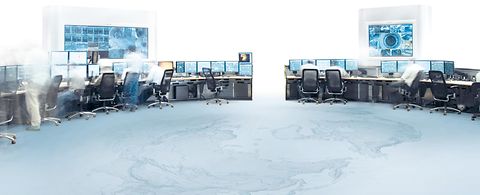 ANDRITZ to deliver DCS checkout and operator training simulator for Klabin's Puma II project, Brazil
2020/02/28
ANDRITZ Brasil Ltda., part of international technology Group ANDRITZ, has received an order to supply dynamic simulation solutions for Klabin's Puma II pulp mill project in Ortigueira, Paraná, Brazil.
ANDRITZ Automation will be responsible for development of the dynamic simulation models, DCS checkout (DCS logic test and validation) and operator training simulator (OTS). ANDRITZ's proprietary simulation tool IDEAS™ will be used to model the recovery boiler #2 and power boiler #2 supplied by ANDRITZ and the evaporator #2 supplied by another vendor. The simulated models will be used to test and verify process design concepts, identify and correct errors in the control logic and provide realistic, hands-on training modules for the operators, helping Klabin to achieve a faster and smoother start-up. In addition, the simulator will allow training of operators on the core processes in a risk-free environment prior to operating the actual plant.
"The well proven ANDRITZ IDEAS simulation tool has been used during commissioning, start-up and training in almost all pulp & paper greenfield projects in Brazil since 2002. We are very proud that Klabin decided again to choose IDEAS as the main simulation tool for the Puma II project. IDEAS' incomparable technology, its unique training platform as well as the outstanding results from the Puma°I project, where ANDRITZ supplied simulation tools for key process areas in addition to major equipment and technologies, were decisive in award of the order to ANDRITZ," says Leonardo Alves, Application and Sales Manager in Brazil for the Automation division. "Today, IDEAS software is also used to create digital twins of client mills. These digital twins run online. This kind of application can be used to measure the conditions and/or physical characteristics of a process and provide virtual measurements where real-world measurements are impossible, thus real-time plant optimization has become a reality," he concludes.
For Klabin's Puma II project, ANDRITZ will supply energy-efficient and environmentally friendly pulp production technologies and key process equipment, including the wood processing plant, recovery boiler, power boiler and white liquor plant.
- End -
ANDRITZ GROUP
ANDRITZ is an international technology group providing plants, systems, equipment, and services for various industries. The company is one of the technology and global market leaders in the hydropower business, the pulp and paper industry, the metal working and steel industries, and in solid/liquid separation in the municipal and industrial segments. Other important fields of business are animal feed and biomass pelleting, as well as automation, where ANDRITZ offers a wide range of innovative products and services in the IIoT (Industrial Internet of Things) sector under the brand name of Metris. In addition, the company is active in power generation (steam boiler plants, biomass power plants, recovery boilers, and gasification plants) and environmental technology (flue gas and exhaust gas cleaning plants) and offers equipment for the production of nonwovens, dissolving pulp, and panelboard, as well as recycling plants.
ANDRITZ stands for passion, partnership, perspectives and versatility – core values to which the company is committed. The listed Group is headquartered in Graz, Austria. With almost 170 years of experience, approximately 29,700 employees, and more than 280 locations in over 40 countries worldwide, ANDRITZ is a reliable and competent partner and helps its customers to achieve their corporate and sustainability goals.
KLABIN
Klabin is the largest producer and exporter of paper for packaging in Brazil. It is the only company offering one-stop shop solutions in hardwood, softwood and fluff pulp as well as being the leader in corrugated board packaging and industrial bags. Founded in 1899, it has 18 industrial units in Brazil and one in Argentina.
According to Klabin, the total capacity of the Puma II machines will be 920,000 tons per year of kraftliner papers. Klabin's Puma II will have consumed investments of around of two billion euros by 2023. At the Puma unit, Klabin is already producing bleached pulp (short fiber, long fiber and fluff), with an annual capacity of 1.6 million tons.
Puma II will be divided into two stages: The first involves the construction of a fiber line (#3) to provide unbleached pulp. This fiber line will be combined with a machine producing kraftliner, which will be marketed under the Eukaliner brand, with a capacity of 450,000 tons per year. In this first phase, all recovery areas will also be built to handle the capacities of both project phases.
The second phase of the project involves the construction of a complementary fiber line (#4) combined with a kraftliner paper machine with a capacity of 470 thousand tons per year. Some support structures will also be extended.The work on each stage is scheduled over 24 months, and construction of the second stage will begin soon after the end of the first one. The first machine is due to start up in the second quarter of 2021 and the second machine in the second quarter of 2023.