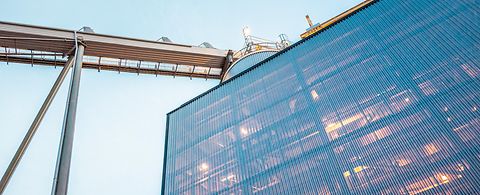 ANDRITZ to reconstruct seawater flue gas desulphurization plant in Vasilikos, Cyprus
2018/02/12
International technology Group ANDRITZ has been awarded an order by the Electricity Authority of Cyprus (EAC), in the course of an international tender, for reconstruction of the damaged seawater flue gas desulphurization (SWFGD) plant at the Vasilikos power station, Cyprus.
The SWFGD plant for the existing heavy fuel oil boiler #3 in Vasilikos was damaged in November 2016 following a catastrophic fire that completely destroyed the flue gas treatment equipment. Start-up of the new system is scheduled for May 2019.
The scope of work includes design, supply, erection, reconstruction, testing, commissioning, and performance testing of the SWFGD plant supplied. The main deliveries are a packed absorber tower made of concrete, a gas-gas heater (GGH) on top of the absorber, upgrade of the existing aeration system, as well as connection to all other existing systems. Upgrade of the existing electrostatic precipitator (ESP) will also enable the plant to comply with the new and stricter emission regulations.
This order once again confirms the strong business cooperation between ANDRITZ and EAC, proven by numerous successful joint projects. A highlight was the Vasilikos rehabilitation project of units #1 and #2 following a devastating explosion at the neighboring naval base in July of 2011 that caused extensive damage.
- End -
ANDRITZ GROUP
ANDRITZ is a globally leading supplier of plants, equipment, and services for hydropower stations, the pulp and paper industry, the metalworking and steel industries, and for solid/liquid separation in the municipal and industrial sectors as well as for animal feed and biomass pelleting. Other important business segments include automation and service business. In addition, the international Group is also active in the power generating sector (steam boiler plants, biomass boilers, recovery boilers, and gasification plants) and in environmental technology (flue gas cleaning plants) and offers equipment for the production of nonwovens, dissolving pulp, and panelboard as well as recycling plants. The publicly listed technology Group is headquartered in Graz, Austria, and has a staff of approximately 25,700 employees. ANDRITZ operates more than 250 sites in over 40 countries.