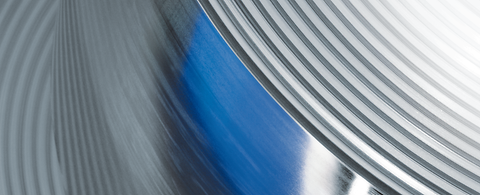 ANDRITZ greatly improves productivity at the Fuxin Special Steel annealing and pickling line
2018/06/08
International technology group ANDRITZ has successfully improved performance of the annealing and pickling line for stainless steel strip at Fuxin Special Steel Co., Ltd, Fujian Province, China.
Based on proven software and algorithms developed by ANDRITZ, the operating and process data of the plant were analyzed, and some bottlenecks were identified. After implementation of the necessary changes, the capacity of the line was increased by 15%, with virtually no additional capital investment. This extraordinary improvement once again demonstrates the expertise and know-how of ANDRITZ in optimizing the production performance of plants in the metals industry, based on digital products and software developed by ANDRITZ.
ANDRITZ has combined all of its digitalization activities under the Metris umbrella brand. Metris encompasses innovative IIoT products largely relating to optimization of plants and processes by combining sensors, complex data analysis, and augmented reality. Smart service offerings, such as an online spart part catalog, as well as research and development work on digital solutions that provide added value to the customer complete the comprehensive ANDRITZ product offerings in the digitalization sector.
Fuxin Special Steel Co., Ltd. is an integrated stainless steel manufacturer that covers steel making, casting, and hot rolling, as well as hot strip annealing and pickling.
– End –
ANDRITZ GROUP
ANDRITZ is a globally leading supplier of plants, equipment, and services for hydropower stations, the pulp and paper industry, the metal working and steel industries, and for solid/liquid separation in the municipal and industrial segments. Other important fields of business are animal feed and biomass pelleting, as well as automation, where ANDRITZ offers a wide range of innovative products and services in the IIoT (Industrial Internet of Things) sector under the brand name of Metris. In addition, the international technology Group is active in power generation (steam boiler plants, biomass power plants, recovery boilers, and gasification plants) and environmental technology (flue gas cleaning plants) and offers equipment for the production of nonwovens, dissolving pulp, and panelboard, as well as recycling plants.
A passion for innovative technology, absolute customer focus, reliability, and integrity are the central values to which ANDRITZ commits. The listed Group is headquartered in Graz, Austria. With over 160 years of experience, 25,800 employees, and more than 250 locations in over 40 countries worldwide, ANDRITZ is a reliable and competent partner and helps its customers to achieve their corporate and sustainability goals.
ANDRITZ METALS
ANDRITZ Metals is the technology and global market leader in forming equipment through the Schuler Group, in which ANDRITZ has a stake of more than 95 percent. Schuler offers presses, automation solutions, dies, process know-how, and services for the entire metal forming industry. Its customers include car manufacturers and their suppliers, as well as companies in the forging, household appliance, packaging, energy, and electrical industries. Schuler is also the market leader in coin minting technology and offers system solutions for the aerospace industry, rail transport, and manufacture of large pipes. In addition, ANDRITZ Metals is one of the leading global suppliers of complete lines for the production and processing of cold-rolled strip made of carbon steel, stainless steel, aluminum, and other non-ferrous metals. The lines comprise equipment for pickling, cold rolling, annealing and heat treatment, surface finishing, strip coating and finishing, punching and deep drawing, and regeneration of pickling acids. The business area also supplies turnkey furnace systems for the steel, copper, and aluminum industries, burners and refractory products, as well as welding systems for the metal working industry.