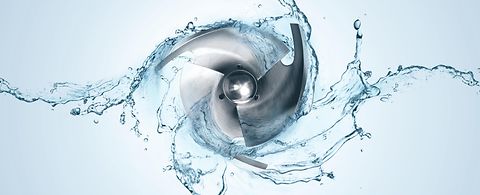 ANDRITZ Pumps and ANDRITZ PULP & PAPER at Zellcheming 2010
2010/06/15
Innovative solutions for the pulp and paper industries
Press meetings at the booth (Hall 5, Booth 521):
- ANDRITZ Pumps: June 29, 2010, 11:30-12:00
- ANDRITZ PULP & PAPER: June 29, 2010, 12:00-12:30
International technology Group ANDRITZ will attend Zellcheming 2010 with its PULP & PAPER business area and ANDRITZ Pumps, part of the ANDRITZ HYDRO business area.

ANDRITZ Pumps presents its comprehensive centrifugal pump program. The newly developed Self-priming Centrifugal Pump from the AD Series, which has already been tried and tested in practice and which is very suitable for transporting media containing solids (e.g. for pulp, paper or effluent applications), will be shown as an exhibit. In addition, the Vertical Submerged Pump from the SAT Series and the Free-flow Pump from the VP Series will be presented. ANDRITZ Sump Pumps convey fresh and white water, pulp suspensions, and waste water; the free-flow design of the vertical pumps is also suitable for conveying sludges containing large particles and abrasive media.

This year's lecture deals with the use of reverse-running pumps as pump turbines for energy recovery. Using the specific example of a pump turbine ahead of a microflotation plant, ANDRITZ describes how optimum recovery of excess energy can be achieved. ANDRITZ Reverse-running Pumps are used as energy recovery turbines (e.g. in pulp and paper mills), in mini power plants, and to provide an energy supply to mountain refuges and forest lodges. They are suitable for drinking water, residual and waste water, and pulp suspensions.

Innovations for the pulp and paper industry are also presented by ANDRITZ PULP & PAPER:


ANDRITZ's deinking process is carried out in two-loop or three-loop systems comprising advanced screening stages, atmospheric and pressurized dispersing, washing, and two bleaching stages.
The PrimeCoat Film technology for simultaneous coating of both sides of the sheet offers many benefits: low operating costs, ability to handle a wide range of machine speeds, quick changes of coat weight, good MD and CD profile characteristics, and a coating quality similar to contour coating.
The PrimeDry Yankee head insulation in both cast and steel Yankees saves energy and reduces emissions during the production process. The head insulation can also be retrofitted to existing Yankees, regardless of the original equipment manufacturer.
PrimeDustEx W is a wet collection system that prevents fire and explosion hazards associated with accumulation dust. The wet collector uses a unique extended inlet design with an outer wall and an internal guide vane.
ANDRITZ's SuperFlow disc filter sectors ensure high drainage which produces drier fiber mats in the filter to increase capacity. The U-profile construction enhances the flow of the filtrate and ensures very high stability and reliability.
The new Bar-Tec® Nobilis is the screen basket for fine screening in DIP plants. With this screen basket, the slot width accuracy provides excellent results compared to conventional screen baskets. The new Bar-Tec® Valeo series provides robust and hard-wearing screen baskets for recycled pulp applications.
The ANDRITZ GROUP

The ANDRITZ GROUP is a global market leader for supply of systems and services to the hydropower, pulp and paper, metals, and other specialized industries (solid/liquid separation, feed and biofuel). The Group is headquartered in Graz, Austria and has a staff of approximately 13,400 employees worldwide. ANDRITZ operates over 120 production sites, service and sales companies all around the world.
ANDRITZ Pumps

As part of the ANDRITZ GROUP'S HYDRO business area, the ANDRITZ Pumps division develops and manufactures pumps for different applications. Decades of experience in building hydraulic machines and also comprehensive know-how form the basis of the high standard of ANDRITZ pump engineering. ANDRITZ offers model testing, design and engineering, fabrication, project management, service, and training - all from a single source.
ANDRITZ Pumps are used innovatively . . .
. . . for a wide range of applications in:
pulp production
wastepaper recycling
paper production
the chemical industry
the food industry
waste water cleaning
energy recovery as reverse-running pumps.
. . . as modern steam heating systems:
in industrial power plants in the event of production stoppages (e.g. web breaks on paper machines) in order to recover 95% of energy and de-mineralized water
for gentle heating of low and medium consistency pulp suspensions.
. . . in water transport for:
irrigation and drainage
water supply.
. . . in the energy sector:
as cooling water pumps
as reactor pumps
In flue gas desulphurization plants.
ANDRITZ HYDRO
ANDRITZ HYDRO is a world leader in the supply of turnkey plants and services for hydropower stations. In addition, rehabilitation and upgrading of existing plants are offered. Further fields of activity are development, design, and manufacture of pumps for selected applications (e.g. for water transport, in the energy sector, and in the pulp and paper industry) and of turbo generators for gas and steam power plants.
ANDRITZ PULP & PAPER
ANDRITZ PULP & PAPER is a leading global supplier of turnkey systems and services for the production of all types of pulp, paper, tissue paper, board, fiber-board (MDF), nonwovens, as well as of biomass boilers and gasifiers for energy production. The technologies available are employed for the processing of logs and annual fibers, the production of chemical and mechanical pulps as well as recycled paper fibers, recovery and reuse of chemicals, generation of energy from biomass, preparation of paper machine furnish from virgin or recycled fibers, production of paper, tissue paper and board, calendering and coating of paper, and the handling of reject materials and sludges. Services include complete mill maintenance, equipment upgrades and rebuilds, engineered wear products, and spare parts.