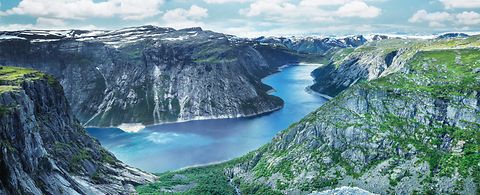 ANDRITZ to supply equipment for Beyhan-1 hydropower station, Turkey
2012/03/21
International technology Group ANDRITZ has received an order – awarded to a consortium led by ANDRITZ HYDRO – from Kalehan Enerji Üretim ve Ticaret A.S. to supply and install electromechanical equipment for the Beyhan-1 hydropower plant, Turkey.
The order value for ANDRITZ HYDRO is approximately 44 MEUR. Commissioning is scheduled for mid-2015.

The consortium's scope of supply includes three turbine generator units, transformers, switchgear, and the entire electrical equipment. In addition, a small-scale hydropower unit will be supplied to generate power from ecological water flows in order to preserve fauna and flora.

With an output of 186 MW each, the three Francis turbines to be supplied by ANDRITZ HYDRO will be among the largest of their kind ever installed in Turkey.

Beyhan-1 is the first of four Kalehan Enerji hydropower plants planned on the River Murat in eastern Turkey. With an installed capacity of around 600 MW, it is one of the cornerstones of the power supply in this growth market region. Thus, another 1,250 GWh/a of renewable energy from clean hydropower can be supplied to the Turkish grid as from mid-2015.

– End –
The ANDRITZ GROUP
International technology Group ANDRITZ is a globally leading supplier of plants, equipment, and services for hydropower stations, the pulp and paper industry, solid/liquid separation in the municipal and industrial sectors, the steel industry, and the production of animal feed and biomass pellets. In addition, ANDRITZ offers technologies for certain other sectors including automation, pumps, machinery for nonwovens and plastic films, steam boiler plants, biomass boilers and gasification plants for energy generation, flue gas cleaning plants, plants for the production of panelboard (MDF), thermal sludge utilization, and torrefaction plants. The publicly listed ANDRITZ GROUP is headquartered in Graz, Austria and has a staff of approximately 16,700 employees worldwide. ANDRITZ operates over 180 production sites as well as service and sales companies all around the world.

ANDRITZ HYDRO
ANDRITZ HYDRO is a global supplier of electromechanical equipment and services for hydropower plants. With over 170 years of accumulated experience and more than 30,000 turbines installed totaling approximately 400,000 MW output, ANDRITZ HYDRO is a leader in the world market for hydraulic power generation, offering the complete product portfolio including turbines, generators, and additional equipment of all types and sizes: "water to wire" from small hydro applications up to outputs of more than 800 MW. Additionally, ANDRITZ HYDRO holds a top position in the growing power plant service, refurbishment, and upgrade market. Further fields of activity are development, design, and manufacture of pumps for selected applications (e.g. for water transport, in the energy sector, in the pulp and paper industry) and of turbo generators for gas and steam power plants.