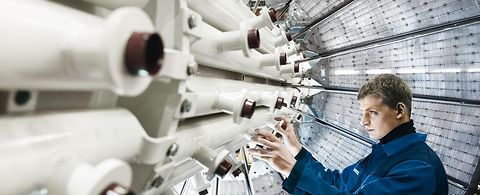 The new ANDRITZ C-Press: efficient sludge dewatering with high performance and low operating costs
2014/03/26
International technology Group ANDRITZ has launched new sludge dewatering equipment for waste water treatment plants, industrial treatment plants, and food applications.
The ANDRITZ C-Press, a screw press providing high performance combined with compact design, features low operating costs.
With its direct drive system and conical shaft with constant screw pitch, the new press can handle inlets from 1 to 23 m3/h and outlets from 50 to 800 kg DS/h. In addition to a long lifecycle, the press also offers the advantages of easy operation, low maintenance, and – due to bi-sequential cleaning – 30% less water consumption than comparable equipment.  The new C-press complies with all European Union regulations on such issues as safety, hygiene, and environmental protection.
– End –


The ANDRITZ GROUP
The ANDRITZ GROUP is a globally leading supplier of plants, equipment, and services for hydropower stations, the pulp and paper industry, the metalworking and steel industries, and for solid/liquid separation in the municipal and industrial sectors. In addition, ANDRITZ offers technologies for certain other sectors including automation, the production of animal feed and biomass pellets, pumps, machinery for nonwovens and plastic films, steam boiler plants, biomass boilers and gasification plants for energy generation, flue gas cleaning plants, plants for the production of panelboards (MDF), thermal sludge utilization, and biomass torrefaction plants. The publicly listed, international technology Group is headquartered in Graz, Austria, and has a staff of around 23,700 employees. ANDRITZ operates over 250 production sites as well as service and sales companies all around the world.


ANDRITZ SEPARATION
ANDRITZ SEPARATION is one of the leading suppliers of technologies and services in the solid/liquid separation and thermal treatment areas for the environmental sector (particularly treatment of municipal and industrial waste-water), for mining and mineral processing, the chemical industry, and for the food and beverages industries. The extensive portfolio covers centrifuges, filters, thermal systems, screens, thickeners, separators, and conveying equipment. The business area also supplies equipment for the production of animal feed pellets and for biomass torrefaction. Based on 150 years of experience, ANDRITZ SEPARATION is a long-term service partner for the entire life cycle of customer plants, including delivery of wear and spare parts, modernization, and process optimization.