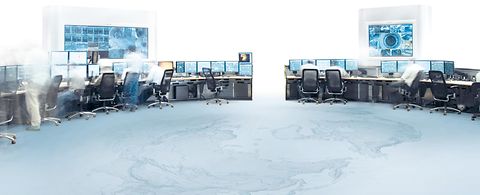 ANDRITZ to deliver Advanced Process Control system for Ujina Concentrator copper deposit, Chile
2014/04/01
ANDRITZ AUTOMATION, part of international technology Group ANDRITZ, has received an order from Compañia Minera Doña Ines de Collahuasi to supply an Advanced Process Control solution for the secondary grinding operations (including integration with the primary grinding process) at the Ujina Concentrator copper deposit in Iquique, Region de Tarapacá, Chile.
ANDRITZ will develop control applications for the classification process and product quality, including the supervisory level for the entire grinding circuit. The main goal is to improve the secondary grinding circuit by stabilizing the variables associated with the classification performance. This will be done by implementing ANDRITZ BrainWave, a patented model predictive controller, to stabilize the pressure and density of the grinding circuit while keeping the sump level within a safe range and by means of expert rules implemented in the ANDRITZ IDEAS simulation software. Finally, an expert layer will take over the whole grinding circuit with the objective of pushing the process to the production target while maintaining the product quality within a stable range.
Compañía Minera Doña Inés de Collahuasi SCM produces copper concentrate, copper cathodes, and molybdenum concentrate and operates the world's third largest copper deposit.
– End –
The ANDRITZ GROUP
The ANDRITZ GROUP is a globally leading supplier of plants, equipment, and services for hydropower stations, the pulp and paper industry, the metalworking and steel industries, and solid/liquid separation in the municipal and industrial sectors. The publicly listed, international technology Group is headquartered in Graz, Austria, and has a staff of around 23,700 employees. ANDRITZ operates over 250 production sites as well as service and sales companies all around the world. The ANDRITZ GROUP ranks among the global market leaders in all four of its business areas. One of the Group's overall strategic goals is to strengthen and extend this position. At the same time, the company aims to secure the continuation of profitable growth in the long term.
ANDRITZ AUTOMATION
ANDRITZ AUTOMATION helps industrial facilities around the world release full potential by maximizing output, minimizing costs, and optimizing operations. The experienced ANDRITZ AUTOMATION team focuses on the design of electrical, control, and instrumentation systems, drawing on the power of some of the world's leading simulation, advanced process control, and operator training tools. ANDRITZ AUTOMATION is a technology leader in several industries, including pulp and paper, oil sands, mining, lime, chemicals, and power.