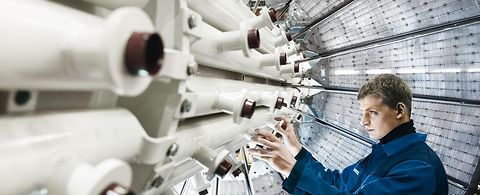 ANDRITZ CentriTune: innovative control system for new and existing decanter centrifuges
2016/01/11
ANDRITZ SEPARATION, part of international technology Group ANDRITZ, has launched a new centrifuge control system.
ANDRITZ CentriTune is a PLC (Programmable Logic Controller)-based system that increases the performance and availability of new and existing decanter centrifuges, regardless of whether these are ANDRITZ machines or not.
ANDRITZ CentriTune offers numerous advantages such as relative speed control, allowing the operator to enter the speed set points directly, and is able to work in different operating modes. The system features a torque control mode for constant dryness at the cake discharge and preconfigured cleaning sequences for optimized operation, providing the flexibility to adapt to the plant and product. In addition, the new ANDRITZ control system has a maintenance and manual operating mode, as well as providing alarms and support systems in troubleshooting.
– End –


The ANDRITZ GROUP
ANDRITZ is a globally leading supplier of plants, equipment, and services for hydropower stations, the pulp and paper industry, the metalworking and steel industries, and for solid/liquid separation in the municipal and industrial sectors. The publicly listed technology Group is headquartered in Graz, Austria, and has a staff of almost 25,000 employees. ANDRITZ operates over 250 sites worldwide.

ANDRITZ SEPARATION
ANDRITZ SEPARATION is one of the leading global suppliers of technologies and services in the solid/liquid separation sector, as well as for the production of animal feed and biomass pellets. The comprehensive product portfolio for solid/liquid separation comprises centrifuges, filters and drying plants, screens, thickeners, separators, and transportation systems – the industries served include municipal and industrial wastewater treatment, chemicals, food and beverages, as well as mining and minerals. The service sector focuses on plant modernization, spare and wear parts, and process optimization.