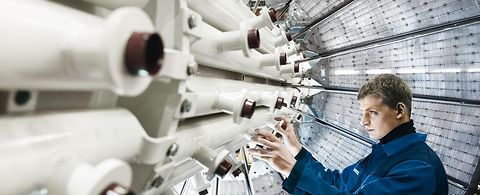 ANDRITZ SEPARATION launches RheoScan, the world's first patented, optical measurement system for automatic polymer dosage in belt presses and gravity belt tables: reduction of polymer costs by up to 40%
2016/02/22
ANDRITZ SEPARATION, part of international technology Group ANDRITZ, has developed and successfully launched RheoScan, a new, innovative optical measurement system for belt presses and gravity belt tables.
ANDRITZ RheoScan measures the actual sludge viscosity during the thickening stage in real time. The new system adjusts the polymer dose needed to match changing flow rates and sludge conditions automatically and accurately. This means cost savings of up to 40% for polymer consumption and an increase in plant reliability. The patented ANDRITZ technology operates without requiring supervision.

ANDRITZ RheoScan can be applied to belt filter presses and gravity belt tables in all types of municipal and industrial sludge processing facilities. Installations at customer plants have shown that the payback period is mostly less than one year. Installations in wastewater treatment plants with digestion processes show an additional gas yield due to the optimized polymer dosage.
– End –

The ANDRITZ GROUP
ANDRITZ is a globally leading supplier of plants, equipment, and services for hydropower stations, the pulp and paper industry, the metalworking and steel industries, and for solid/liquid separation in the municipal and industrial sectors. The publicly listed technology Group is headquartered in Graz, Austria, and has a staff of almost 25,000 employees. ANDRITZ operates over 250 sites worldwide.

ANDRITZ SEPARATION
ANDRITZ SEPARATION is one of the leading global suppliers of technologies and services in the solid/liquid separation sector, as well as for the production of animal feed and biomass pellets. The comprehensive product portfolio for solid/liquid separation comprises centrifuges, filters and drying plants, screens, thickeners, separators, and transportation systems – the industries served include municipal and industrial wastewater treatment, chemicals, food and beverages, as well as mining and minerals. The service sector focuses on plant modernization, spare and wear parts, and process optimization.