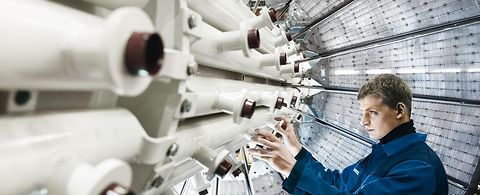 ECOPHOS GROUP and ANDRITZ sign strategic cooperation agreement
2016/06/14
International technology Group ANDRITZ and the ECOPHOS GROUP, a global player active in the phosphate industry, have signed a cooperation agreement for the supply of tailor-made filtration systems for ECOPHOS' patented production processes.
ANDRITZ SEPARATION, one of the world's leading suppliers for solid/liquid separation, will supply customized press and vacuum belt filters to ECOPHOS that further enhance the performance, reliability, and cost-effectiveness of ECOPHOS' patented processes.
"Filtration has always been a crucial phase in the ECOPHOS process; it requires special attention and allows no mistakes. It was not easy to find a partner capable of building the equipment we needed, but with ANDRITZ, we are sure we will provide solutions to our customers that go beyond their expectations," says Mohamed Takhim, founder and CEO of ECOPHOS.

"ANDRITZ SEPARATION is very proud of this cooperation agreement with ECOPHOS. We will supply specially designed press and vacuum belt filters to meet the high challenges of the different streams in the ECOPHOS process. ANDRITZ is also fully committed to providing professional service and support to ensure enduring high performance by its systems", explains Thomas Bachhofner, Business Area Manager of ANDRITZ SEPARATION.

ANDRITZ and ECOPHOS consider this cooperation agreement to be the start of a long-lasting business relationship between the two companies that is expected to lead to further innovations and development of new filtration methods for the phosphates industry.
– End –


The ANDRITZ GROUP
ANDRITZ is a globally leading supplier of plants, equipment, and services for hydropower stations, the pulp and paper industry, the metalworking and steel industries, and for solid/liquid separation in the municipal and industrial sectors. The publicly listed technology Group is headquartered in Graz, Austria, and has a staff of approximately 24,200 employees. ANDRITZ operates over 250 sites worldwide.


ANDRITZ SEPARATION
ANDRITZ SEPARATION is one of the leading global suppliers of technologies and services in the solid/liquid separation sector, as well as for the production of animal feed and biomass pellets. The comprehensive product portfolio for solid/liquid separation comprises centrifuges, filters and drying plants, screens, thickeners, and separators – the industries served include municipal and industrial wastewater treatment, chemicals, food and beverages, as well as mining and minerals. The service sector focuses on plant modernizations, spare and wear parts, as well as on process optimization.


ECOPHOS GROUP
ECOPHOS is a Belgian-based world leading solution provider created in 1996 with unique patented production processes in the phosphate industry. With this technology, EcoPhos has developed its business along two divisions. In the first division, EcoPhos operates as a technology provider to the phosphate industry through a licensing model ("Ecophos"). In the second division ("Aliphos"), Ecophos positions itself as a leading European animal feed producer. The Aliphos group has two existing production facilities in the Netherlands (Rotterdam) and in Bulgaria (Varna) and a third production facility under construction in France (Dunkerque). ECOPHOS has over 270 employees.