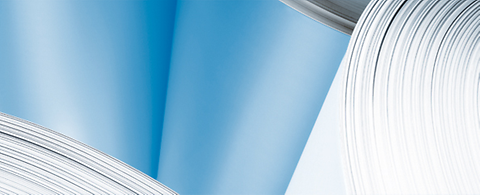 ANDRITZ launches new PrimeLineTEX tissue machine for textured tissue
2019/03/22
International technology Group ANDRITZ has officially launched its new tissue machine for textured tissue, the "PrimeLineTEX", enabling customers to produce textured tissue of a quality superior to dry crepe and very close to structured (TAD) tissue, while at the same time achieving significant cost savings.
PrimeLineTEX is available with widths of 5.6 or 2.8 m and produces high-quality tissue for towel and sanitary applications. The machine offers up to 25% fiber savings compared to dry crepe and consumes up to 50% less energy than a TAD machine. The PrimeLine TEX is substantially shorter in length than other market solutions and uses only one additional fabric instead of two. Furthermore, the PrimeLineTEX machine can switch between production of textured and dry crepe tissue within a much shorter time than comparable solutions.
As a turnkey supplier, ANDRITZ can offer the complete textured tissue production line, including stock preparation, pumps, and the automation system.
"Our new PrimeLineTEX tissue machine enables customers to produce high-quality tissue close to TAD but with substantially reduced investment and operating costs. It is available to all markets worldwide, without any restrictions. This new machine offers profitable advantages for our customers," says Klaus Blechinger, Vice President Tissue at ANDRITZ.
PrimeLineTEX – FEEL THE DIFFERENCE
The ANDRITZ tissue pilot plant in Graz, Austria – the PrimeLineTIAC – is currently configured as a PrimeLineTEX machine and now offers customers the opportunity to test and develop their future textured tissue. The first paper samples will be available during the Tissue World Milan trade show from March 25 to 27, 2019 at the ANDRITZ booth, F680.
With the new PrimeLineTEX machine, ANDRITZ once again confirms its strong position as one of the global market leaders for the supply of complete tissue production lines and the right partner for innovative solutions.
For more information, please visit andritz.com/primelinetex
- End -
ANDRITZ GROUP
ANDRITZ is an international technology group providing plants, systems, equipment, and services for various industries. The company is one of the technology and global market leaders in the hydropower business, the pulp and paper industry, the metal working and steel industries, and in solid/liquid separation in the municipal and industrial segments. Other important fields of business are animal feed and biomass pelleting, as well as automation, where ANDRITZ offers a wide range of innovative products and services in the IIoT (Industrial Internet of Things) sector under the brand name of Metris. In addition, the company is active in power generation (steam boiler plants, biomass power plants, recovery boilers, and gasification plants) and environmental technology (flue gas and exhaust gas cleaning plants) and offers equipment for the production of nonwovens, dissolving pulp, and panelboard, as well as recycling plants.
ANDRITZ stands for passion, partnership, perspectives and versatility – core values to which the company is committed. The listed Group is headquartered in Graz, Austria. With almost 170 years of experience, 29,000 employees, and more than 280 locations in over 40 countries worldwide, ANDRITZ is a reliable and competent partner and helps its customers to achieve their corporate and sustainability goals.
ANDRITZ PULP & PAPER
ANDRITZ Pulp & Paper is a leading global supplier of complete plants, systems, equipment, and comprehensive services for the production and processing of all types of pulp, paper, board, and tissue. The technologies cover processing of logs, annual fibers, and waste paper; production of chemical pulp, mechanical pulp, and recycled fibers; recovery and reuse of chemicals; preparation of paper machine furnish; production of paper, board, and tissue; sizing, calendering and coating of paper; as well as treatment of reject materials and sludge. The service offering includes system and machine modernization, rebuilds, spare and wear parts, on-site and workshop services, optimization of process performance, maintenance and automation solutions, as well as machine relocation and second-hand equipment. Biomass, steam and recovery boilers for power production, gasification and flue gas cleaning plants, systems and plants for the production of nonwovens and absorbent hygiene products, dissolving pulp, and panelboard (MDF), as well as recycling and shredding solutions for various waste materials also form a part of this business area.