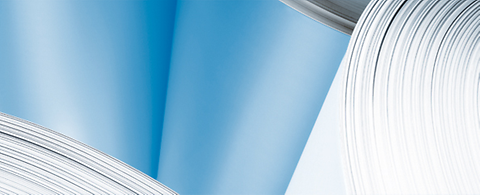 ANDRITZ starts up new dewatering technology at Zellstoff Pöls, Austria
2019/04/18
International technology Group ANDRITZ has successfully started up the latest innovation in dewatering – the Vertical Screw Thickener (VST) – at Zellstoff Pöls AG, Austria. The VST has been operating successfully since the beginning of December 2018 and supplying the existing MG paper production line PM2 with the maximum capacity of 360 t/d.
The pioneering Vertical Screw Thickener is a screw press with a vertical configuration and a very small footprint, making it suitable for retrofit installations in existing buildings. The pulp suspension is fed into the top of the machine, and its downward transport is gravity-assisted. At Zellstoff Pöls, the VST is located just before the finished pulp storage tank that feeds the paper production line and thus enables separation of the pulp mill and paper machine water loops.
The VST dewaters the pulp suspension from 3% inlet to 25-30% outlet consistency, and the water removed is recycled and re-used in the pulp mill. The ability to dewater from low-consistency inlet to high-consistency discharge is an important advantage compared to conventional dewatering equipment: Paper machine water is added to the dilution conveyor after the VST. Separation of the water loops results in savings in paper additives (e.g. sizing agent) at the paper machine. The VST replaces an existing gravity table at Zellstoff Pöls and feeds the MG paper production line for PM2.
Jürgen Rieger, Chief Operations Manager at Zellstoff Pöls, points out: "Our expectations of the new Vertical Screw Thickener were more than fulfilled. After the fast and trouble-free start-up, we are now already seeing the positive effects, like reduction of sizing agent consumption." Patrick Wohlmuth, Process Technology Manager at Zellstoff Pöls, continues: "The results of our previous tests in the ANDRITZ Stock Preparation Pilot Plant were perfectly implemented in our mill-site production process with the VST 1005."
- End-
ANDRITZ GROUP
ANDRITZ is an international technology group providing plants, systems, equipment, and services for various industries. The company is one of the technology and global market leaders in the hydropower business, the pulp and paper industry, the metal working and steel industries, and in solid/liquid separation in the municipal and industrial segments. Other important fields of business are animal feed and biomass pelleting, as well as automation, where ANDRITZ offers a wide range of innovative products and services in the IIoT (Industrial Internet of Things) sector under the brand name of Metris. In addition, the company is active in power generation (steam boiler plants, biomass power plants, recovery boilers, and gasification plants) and environmental technology (flue gas and exhaust gas cleaning plants) and offers equipment for the production of nonwovens, dissolving pulp, and panelboard, as well as recycling plants.
ANDRITZ stands for passion, partnership, perspectives and versatility – core values to which the company is committed. The listed Group is headquartered in Graz, Austria. With almost 170 years of experience, 29,000 employees, and more than 280 locations in over 40 countries worldwide, ANDRITZ is a reliable and competent partner and helps its customers to achieve their corporate and sustainability goals.
ANDRITZ PULP & PAPER
ANDRITZ Pulp & Paper is a leading global supplier of complete plants, systems, equipment, and comprehensive services for the production and processing of all types of pulp, paper, board, and tissue. The technologies cover processing of logs, annual fibers, and waste paper; production of chemical pulp, mechanical pulp, and recycled fibers; recovery and reuse of chemicals; preparation of paper machine furnish; production of paper, board, and tissue; sizing, calendering and coating of paper; as well as treatment of reject materials and sludge. The service offering includes system and machine modernization, rebuilds, spare and wear parts, on-site and workshop services, optimization of process performance, maintenance and automation solutions, as well as machine relocation and second-hand equipment. Biomass, steam and recovery boilers for power production, gasification and flue gas cleaning plants, systems and plants for the production of nonwovens, dissolving pulp, and panelboard (MDF), as well as recycling and shredding solutions for various waste materials also form a part of this business area.