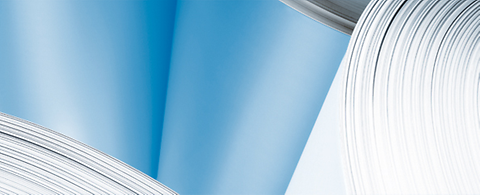 ANDRITZ to supply a tissue production line with double-width tissue machine to Asia Symbol (Guangdong) Paper, China
2021/09/16
ANDRITZ has received an order from Asia Symbol (Guangdong) Paper to supply a complete tissue production line – from stock preparation to a double-width tissue machine (TM13), including automation – for energy-efficient production of high-quality grades at its mill in Jiangmen Xinhui, China.
Start-up is planned for the end of 2022.
The tissue machine of the type PrimeLineTM W 2000 will have a design speed of 1,900 m/min and a width of 5.65 m for the production of paper towels, kitchen rolls, napkins, handkerchiefs, and facial tissue in the range of 11 to 42 gsm. It features a PrimePress XT Evo shoe press that dewaters the web gently, but still achieves a far higher post-press dryness than conventional presses. The line force and/or shoe tilt can be adjusted in a very flexible way in order to optimize the product quality and reduce consumption of drying energy. In addition, an 18 ft. PrimeDry Steel Yankee with a steam-heated PrimeDry Hood ST for energy- and cost- efficient drying will be installed.
The order also includes the stock preparation system with LC (low-consistency) refiners for superior fiber properties, the approach flow system with a ModuScreen HBE headbox screen for pulsation-free screening, as well as undermachine pulping.
The entire production line will be equipped with an ANDRITZ PrimeControl automation system (MCS, DCS, and QCS) which includes extended features for process automation throughout the tissue line and minimizes the number of subsystems and associated interfaces.
Steven HUNG, General Manager of Asia Symbol (Guangdong) Paper, says: "The tissue business is new to us, but we have rich experience in the production of high-quality printing and writing paper. We are used to working together with the best companies worldwide. This is why we chose ANDRITZ as our partner to enter the tissue business."
Asia Symbol (Guangdong) Paper is part of the RGE Group, a global player that focuses on sustainable pulp and paper production.
- End -
ANDRITZ GROUP
International technology group ANDRITZ offers a broad portfolio of innovative plants, equipment, systems and services for the pulp and paper industry, the hydropower sector, the metals processing and forming industry, pumps, solid/liquid separation in the municipal and industrial sectors, as well as animal feed and biomass pelleting. Plants for power generation, flue gas cleaning, recycling, and the production of nonwovens and panelboard complete the global product and service offering. Innovative products and services in the industrial digitalization sector are offered under the brand name Metris and help customers to make their plants more user-friendly, efficient, and profitable. The publicly listed group has around 26,700 employees and more than 280 locations in over 40 countries. 
ANDRITZ PULP & PAPER
ANDRITZ Pulp & Paper provides equipment, systems, complete plants and services for the production of all types of pulp, paper, board and tissue. The technologies and services focus on maximum utilization of raw materials, increased production efficiency and sustainability as well as lower overall operating costs. Boilers for power production, flue gas cleaning plants, plants for the production of nonwovens and panelboard (MDF), as well as recycling and shredding solutions for various waste materials also form a part of this business area. State-of-the-art IIoT technologies as part of Metris digitalization solutions complete the comprehensive product offering.