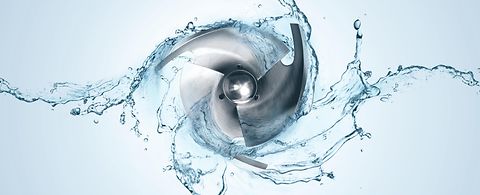 ANDRITZ to supply special pumps for water infrastructure project in China
2019/06/24
International technology Group ANDRITZ will supply four two-stage vertical pumps for water transport as part of the Shanxi Xiaolangdi Yellow River Diversion Project in China.
With two reservoirs, several tunnels, underground canals, pumping stations, pipelines, and aqueducts, the project is designed to handle and transport 247 million cubic meters of water annually. 116 million cubic meters are for irrigation, 116 million cubic meters for industrial and urban water supply, and 15 million cubic meters for ecological use.
As there is a water shortage in northern China, the Shanxi Xiaolangdi Yellow River Diversion project will extend the existing water supply systems. Water from the Yellow River will be transported through a six-kilometer tunnel to an underground pumping station where it will be pumped over a distance of approximately 60 kilometers by four ANDRITZ two-stage vertical pumps into an artificial lake in the northwestern part of Shanxi Province. Each of these pumps will achieve a flow rate of five cubic meters per second over a head of 236 meters and operate with an efficiency of over 91 percent. As the Yellow River transports large quantities of sand, the pumps have a special abrasion-resistant coating.
ANDRITZ has already contributed towards other large-scale infrastructure projects in China in the past. At the Hui Nan Zhuang Station, for example, eight ANDRITZ horizontal double-flow split-case pumps supply drinking water to Beijing, the Chinese capital, over a distance of 60 kilometers. Another 11 ANDRITZ pumps of the same type operate in two stations that convey 200,000 cubic meters of water per hour from the Yellow River to the city of Hohhot, the capital of the autonomous region Inner Mongolia.
– End –
ANDRITZ GROUP
ANDRITZ is an international technology group providing plants, systems, equipment, and services for various industries. The company is one of the technology and global market leaders in the hydropower business, the pulp and paper industry, the metal working and steel industries, and in solid/liquid separation in the municipal and industrial segments. Other important fields of business are animal feed and biomass pelleting, as well as automation, where ANDRITZ offers a wide range of innovative products and services in the IIoT (Industrial Internet of Things) sector under the brand name of Metris. In addition, the company is active in power generation (steam boiler plants, biomass power plants, recovery boilers, and gasification plants) and environmental technology (flue gas and exhaust gas cleaning plants) and offers equipment for the production of nonwovens, dissolving pulp, and panelboard, as well as recycling plants.
ANDRITZ stands for passion, partnership, perspectives and versatility – core values to which the company is committed. The listed Group is headquartered in Graz, Austria. With almost 170 years of experience, over 29,000 employees, and more than 280 locations in over 40 countries worldwide, ANDRITZ is a reliable and competent partner and helps its customers to achieve their corporate and sustainability goals.
ANDRITZ HYDRO
ANDRITZ Hydro is one of the leading global suppliers of electromechanical equipment for hydropower plants. With over 175 years of accumulated experience and more than 31,000 turbines installed, totaling approximately 430,000 megawatts output, the business area provides the complete range of products, including turbines, generators, and additional equipment of all types and sizes – "from water to wire" for small hydro applications to large hydropower plants with outputs of more than 800 megawatts per turbine unit. ANDRITZ Hydro has a leading position in the growing modernization, refurbishment, and upgrade market for existing hydropower plants. Pumps (for water and waste water management such as irrigation, drainage, desalination, or water transport, as well as for various other applications in a wide range of industries) and turbogenerators for thermal power plants are also assigned to this business area.