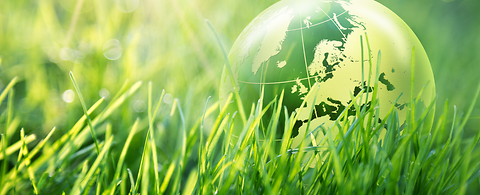 ANDRITZ and ARA sign cooperation agreement on innovative RDF processing solution
2022/06/02
International technology group ANDRITZ has signed a cooperation agreement with Altstoff Recycling Aktiengesellschaft (ARA), located in Vienna, Austria, to launch special RDF (refuse-derived fuels) processing technology on the market for the cement industry.
ARA is the market leader in Austria for collection and recovery of packaging and offers comprehensive know-how for an all-round circular economy of circular design solutions, waste and material flow management as well as logistics and digitalization.
Through this cooperation, ARA and ANDRITZ are aiming at a significant increase in RDF utilization rates and a considerable reduction in carbon emissions from incineration plants in cement works. The centerpiece of the innovative solution is an ANDRITZ ADuro F shredder, which grinds RDF to very fine particle sizes. With this innovative technology, excellent preconditions are created to substantially increase utilization of RDF. At the same time, it enables the use of carbon-optimized RDF materials for a sustainable and carbon-neutral future.
Christoph Scharff, ARA Chairman explains: "We have been taking climate action for 30 years. Still, we need to do even better to meet the EU's 2025 recycling targets. To this end, we are taking every possible measure to increase the recycling rate for plastic packaging and keep as much packaging as possible in the recycling loop. Unfortunately, some packaging cannot be recycled because the material is mixed or heavily contaminated. Thanks to our cooperation with ANDRITZ, we have found a way to ensure better and more sustainable recovery of this fraction."
Michael Waupotitsch, Vice President, Reject and Recycling, at ANDRITZ continues: "ANDRITZ and ARA have proven the feasibility of this new solution in joint trials in our ART Center (ANDRITZ Recycling Technology Center) near Graz, Austria. We are looking forward to successful, long-term collaboration."
- End -
ANDRITZ GROUP
International technology group ANDRITZ offers a broad portfolio of innovative plants, equipment, systems, services and digital solutions for a wide range of industries and end markets. ANDRITZ is a global market leader in all four of its business areas – Pulp & Paper, Metals, Hydro, and Separation. Technological leadership, global presence and sustainability are the cornerstones of the group's strategy, which is focused on long-term profitable growth. The publicly listed group has around 27,100 employees and over 280 locations in more than 40 countries.
ANDRITZ RECYCLING
The ANDRITZ plant range offers recycling solutions for a wide variety of different applications: Electronic and electrical waste, refrigerators, cables and flexible wires, metals, end-of-life vehicle parts like oil filters, motor blocks and tires, household, industrial, organic, plastic, textile, and wood waste as well as rejects from the pulp and paper industry. The service offering includes system and machine modernization, rebuilds, spare and wear parts, on-site and workshop services, optimization of process performance, maintenance and automation solutions, as well as machine relocation and second-hand equipment.
ABOUT ARA
Shaping the circular future. For almost 30 years, Altstoff Recycling Austria AG (ARA) has been a driving force for Austria's waste management industry and circular economy and the country's market-leading collection and recovery scheme for packaging, e-waste and batteries.
ARA and its subsidiaries ARAplus GmbH, Austria Glas Recycling GmbH, DiGiDO GmbH, Digi-Cycle GmbH and ERA GmbH are recognised as best practice businesses at the international level. ARA develops bespoke waste management and circular economy solutions. Its range of services includes a compliance service, material flow management, circular design and digital circular economy solutions. A non-profit organisation owned by Austrian businesses, ARA AG serves more than 15,000 customers.