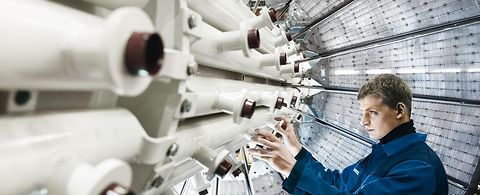 ANDRITZ introduces SmartSIM – new simulation-based operator training
2017/12/05
ANDRITZ SEPARATION, part of international technology group ANDRITZ, has developed a new, computer-assisted tool for operator training to maximize machine and process performance with a minimum of training time.
ANDRITZ SmartSIM is a sophisticated solution for efficient implementation of new machine control systems or optimized training of new operators. It is available for various models of solid/liquid separation machines and systems with a Metris addIQ control system. The benefits of ANDRITZ SmartSIM training are reduced downtimes because there are fewer operating errors and lower maintenance costs due to operators being highly trained.
ANDRITZ SmartSIM includes a computer-assisted classroom training course, which can be used at any time without affecting actual plant operation. Using the original operating interface, trainees have the opportunity to control a "digital twin" of the machine, including the individual parameters of production operations. In the course of the training, participants learn – with professional on-site support from ANDRITZ – how to run the machine, respond properly to alarm situations, and improve the performance of the machine or the process. At the end of the training course, every operator is able to respond to real-life operating challenges and achieve certification level.
Shorter start-up times are achieved for new machine control systems thanks to the flexibility of the training, allowing several participants to take part in a single, classroom-based training session. Simultaneous training with the same machine/process conditions and problem scenarios enables operators to deal with the most challenging or unusual conditions using the realistic process model, which has real production parameters integrated into a digital twin.
– End –
The ANDRITZ GROUP
ANDRITZ is a globally leading supplier of plants, equipment, and services for hydropower stations, the pulp and paper industry, the metalworking and steel industries, and for solid/liquid separation in the municipal and industrial sectors as well as for animal feed and biomass pelleting. Other important business segments include automation and service business. In addition, the international group is also active in the energy generating sector (steam boiler plants, biomass boilers, recovery boilers, and gasification plants) and in environmental technology (flue gas cleaning plants), and offers equipment for the production of nonwovens, dissolving pulp, and panelboard (MDF), as well as recycling plants. The publicly listed technology Group is headquartered in Graz, Austria, and has a staff of approximately 25,700 employees. ANDRITZ operates more than 250 sites in over 40 countries.
ANDRITZ SEPARATION
ANDRITZ SEPARATION is one of the leading separation technology specialists with the broadest technology portfolio in solid/liquid separation. ANDRITZ has been a driving force in the development of technologies and services for solid/liquid separation for over 150 years as well as for the production of animal feed and biomass pellets. The industries served include the environment, food, chemicals, and mining and minerals. The comprehensive product portfolio for solid/liquid separation includes mechanical technologies such as centrifuges. filters, screens, thickeners, or separators, and thermal technologies such as dryers or coolers. The service sector focuses on plant modernization, spare and wear parts, and process optimization.