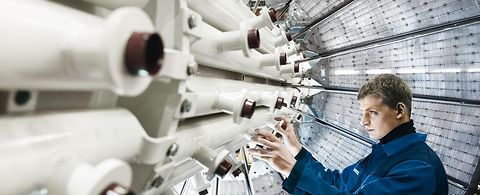 ANDRITZ presents smart solutions for separation and filtration at ACHEMA
2018/06/05
International technology group ANDRITZ will be presenting its broad range of advanced separation and filtration technologies and services at the ACHEMA fair in Frankfurt am Main from June 11 to 15, 2018, hall 5.0, stand B7.
Industrial separation solutions and the latest innovations at the world forum for the chemical engineering and process industries.
Innovative digital solutions for plant and process optimization.
Hands-on presentation of a wide range of equipment for the toughest separation challenges.
ANDRITZ experts specialists will be on hand to provide dedicated solutions for all solid-liquid separation and filtration demands and services, be it lithium, petrochemicals and polymers, agrochemicals and fertilizers, soda ash and technical salts, or any other demanding applications.
Addressing one of the three focal topics of this year's ACHEMA, flexible production through digital integration of the value chain, ANDRITZ presents the Metris addIQ control system that makes all separation processes smarter and more flexible.
The Metris addIQ control system is the very latest digital innovation for separation applications and provides crucial support for customers in achieving their production and business targets. It offers added value by enhancing availability and minimizing production costs by increasing overall equipment efficiency and reducing the risk of operational errors.
Features like predictive analysis allow operators to optimize availability and take preventive action to avoid downtime. Capacity and quality are easy to control and enhance with customizable systems – the Metris addIQ control system is based on the latest PLC and HMI technologies and has an integrated fail-safe system. All of the addIQ packages – Pure, Eco, Dynamic, Prime, and Flex – come with widescreen touch panels and an intuitive operator design. What's more, mobile connectivity features and a smart analysis function combine to guarantee operational accuracy 24/7 from any location. One important aspect is that Metris addIQ is not only suitable for new machines, plants, and processes, but can also be installed in existing facilities with minimal disruption.
THE LIVE EXPERIENCE WITH INDUSTRY 4.0 PRODUCTS PROVEN WORLDWIDE
Visitors to the ANDRITZ stand will have the opportunity to meet a team of specialists with extensive and detailed know-how in the areas of digital plant and process optimization, sensor technology, condition monitoring, augmented reality, data security, and the digital B2B service business. Live demonstrations will allow visitors to experience the added value of the Metris addIQ products and see how they can make a substantial contribution towards optimizing and improving processes, operating sequences, and services.
The Metris addIQ benefits can be explored via Hololenses, which draw on augmented reality to provide information precisely where it is needed through interactive operation and maintenance. Visitors can also see a live demo of Metris addIQ Monitoring for immediate diagnostics and resolving malfunctions: This feature means a secure network connection to the facility is just a few mouse clicks away, allowing support to be given quickly and easily without having to travel.
Also on show is the ANDRITZ intelligent filter press – consisting of Metris addIQ control systems, monitoring sensors, and the Metris SmartFILTERCLOTH – taking productivity to a whole new level. Attendees can see how it increases capacity, optimizes process parameters, and ensures ideal process conditions for downstream equipment while enhancing process reliability and reducing unexpected production losses. One component here is the Metris SmartFILTERCLOTH, with integrated RFID tracking chip. Smart sensors collect all the relevant operational data, and sophisticated data analytics tools turn this into relevant information that can then be visualized for the operator via augmented reality.
As part of the ANDRITZ commitment to providing full service, SmartSIM has established itself as a popular innovation for operator training. Available as an interactive experience at ACHEMA, SmartSIM is a computer-assisted classroom training course that can be used at any time without affecting actual plant operation, helping operators get more out of their machinery with a minimum of training time.
HANDS-ON DEMOS OF INNOVATIVE DEVELOPMENTS
The Krauss-Maffei vacuum drum filter TSF is the most frequently used continuous rotary filter in solid-liquid separation. The exhibit shown at the ANDRITZ stand boasts a corrosion-resistant design with protected steel parts and wetted parts completely covered with a polypropylene layer, making it suitable for highly corrosive applications such as titanium dioxide and processes involving hydrochloric or sulfuric acids. Also on show is the Krauss-Maffei dynamic crossflow filter DCF for purifying liquid streams without consumables, no matter whether they are high-value biological products such as nutraceuticals or chemical streams such as pharmaceuticals.
In the centrifugation sector, ANDRITZ has developed a revolutionary discharge system for high-value applications that provides increased yield with almost no residual product remaining in the centrifuge after discharge. This not only means no product losses, but also minimal maintenance at the PUREVO pharma peeler centrifuge with new pneumatic discharge system. In the live demo, visitors can see the groundbreaking results for themselves. They can also check out the ready-to-install centrifuge screen baskets by ANDRITZ for optimum capacity with any kind of centrifuge.
Other presentations include the mobile ANDRITZ decanter centrifuge CENSOR ACZ: an all-in-one plastics sorting solution for separating, washing, and dewatering that will be shown at the ANDRITZ outdoor booth at F1.0/C27  Benefits include data collection that can be scaled up for industrial-sized machinery and determination of the quantity and quality that can be achieved with the given feed material. The mobile ANDRITZ decanter centrifuge CENSOR ACZ saves time as it can be installed quickly and delivers reliable results.
The latest generation of ANDRITZ decanter centrifuges A will be introduced as a hologram exhibit. The new ANDRITZ decanter centrifuge A is a solid-bowl decanter configurable to individual process needs. It features a standard design platform that can be configured with innovative modules for a perfect fit such as various feed port systems, including the innovative GentleFeeder inlet system for less particle breakage. Additional benefits are cleaner centrate, better recovery rates, small footprint, compact design, and reduced downtimes.
Visitors can also experience the paddle dryer and fluid bed dryer technologies or explore the dewatering and drying solutions for high-purity battery-grade lithium.
For more information on ANDRITZ at ACHEMA 2018, please visit:
https://www.andritz.com/separation-en/news-and-media/trade-fairs/achema
 – End –
ANDRITZ GROUP
ANDRITZ is a globally leading supplier of plants, equipment, and services for hydropower stations, the pulp and paper industry, the metal working and steel industries, and for solid/liquid separation in the municipal and industrial segments. Other important fields of business are animal feed and biomass pelleting, as well as automation, where ANDRITZ offers a wide range of innovative products and services in the IIoT (Industrial Internet of Things) sector under the brand name of Metris. In addition, the international technology Group is active in power generation (steam boiler plants, biomass power plants, recovery boilers, and gasification plants) and environmental technology (flue gas cleaning plants) and offers equipment for the production of nonwovens, dissolving pulp, and panelboard, as well as recycling plants.
A passion for innovative technology, absolute customer focus, reliability, and integrity are the central values to which ANDRITZ commits. The listed Group is headquartered in Graz, Austria. With over 160 years of experience, 25,800 employees, and more than 250 locations in over 40 countries worldwide, ANDRITZ is a reliable and competent partner and helps its customers to achieve their corporate and sustainability goals.
METRIS
Metris is the ANDRITZ technology umbrella brand that reflects the very latest state of the art of technologies in the IIoT/Industry 4.0 sector. Its products provide comprehensive support and added value to customers so that they can achieve their production and corporate goals in terms of increasing the efficiency and profitability of plants, optimizing the use of resources, avoiding breaks in production, and achieving highest product quality.
ANDRITZ SEPARATION
ANDRITZ Separation is one of the leading separation technology specialists with the broadest technology portfolio in solid/liquid separation. The industries served include sectors ranging from environment to food, chemicals, and mining and minerals. The comprehensive product portfolio for solid/liquid separation comprises mechanical technologies such as centrifuges, filters, screens, thickeners, or separators, and thermal technologies such as dryers or coolers. The service sector focuses on customer support through local presence, prompt delivery of spare and wear parts, process monitoring and optimization, as well as operator training. In addition, the Separation business area offers technologies and services for the production of animal feed and biomass pellets.
ANDRITZ PULP & PAPER
ANDRITZ Pulp & Paper is a leading global supplier of complete plants, systems, equipment, and comprehensive services for the production and processing of all types of pulp, paper, board, and tissue. The technologies cover processing of logs, annual fibers, and waste paper; production of chemical pulp, mechanical pulp, and recycled fibers; recovery and reuse of chemicals; preparation of paper machine furnish; production of paper, board, and tissue; sizing, calendering and coating of paper; as well as treatment of reject materials and sludge. The service offering includes system and machine modernization, rebuilds, spare and wear parts, on-site and workshop services, optimization of process performance, maintenance and automation solutions, as well as machine relocation and second-hand equipment. Biomass, steam and recovery boilers for power production, gasification and flue gas cleaning plants, systems and plants for the production of nonwovens, dissolving pulp, and panelboard (MDF), as well as recycling and shredding solutions for various waste materials also form a part of this business area.