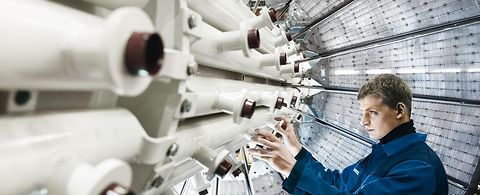 ANDRITZ presents smart solutions for beverage production at BrauBeviale
2018/10/22
International technology group ANDRITZ is presenting its unrivalled range of separation and filtration technologies for the beverage industry at the BrauBeviale fair in Nuremberg from November 13 to 15, 2018, Hall 7, booth 7.421.
Value-added separation and filtration solutions for production of beer and soft drinks
Launch of new beer clarifier: ANDRITZ ArtBREW Advanced 71
Innovative automation solutions to maximize yield and minimize downtime 
Experts from ANDRITZ will be on hand to provide specialist support for all separation demands and services, with comprehensive solutions for solid/liquid separation processes for beer, wine, dairy products and tea, as well as for trend beverages such as kombucha, vegetable milk, and coconut water.
DISCOVER THE SEPARATION TECHNOLOGIES AND MEET THE SPECIALISTS FACE-TO-FACE
One product exclusively designed for the brewing industry is ArtBREW – the craft beer clarifier from ANDRITZ. Combining efficiency and ease of maintenance, ArtBREW is a high-quality, simple-to-operate, plug-and-play beer clarification solution for breweries.
The latest version will be launched at BrauBeviale – the ANDRITZ ArtBREW Advanced 71 with its unique inert gas sealing system known as KO2 (knock out oxygen) that prevents unacceptable levels of oxygen pick-up between the clarifier inlet and outlet connections. Thanks to its small dimensions and custom configuration, the ArtBREW is not only highly efficient, but also a very compact solution that is quick to install. The ArtBREW range caters to brewers of any size, with a beer clarification capacity from 50 to up to 700 hectoliters per hour. Visitors will be able to explore the ArtBREW's control options and clearly see the process up close.
As a global leader in centrifuge supply with more than 15,000 decanter centrifuges installed worldwide, ANDRITZ is the first port of call for enquiries from beverage producers of any size. The ANDRITZ decanter centrifuge F is designed specifically for the food industry to meet the most demanding requirements. It has low oxygen pick-up due to discharge under pressure from a hermetically sealed chamber. In addition to a high flow capacity, this technology has an array of technical features to help drive customers' success, and the separation specialists at the ANDRITZ stand can advise customers on the ideal configuration for your specific application.
The ANDRITZ comprehensive product portfolio also includes membrane filter presses for breweries, which ensure effective filtration of mash at a constant, high quality level. As filter press filtration is a hermetically closed process, the risk of oxidation is kept to a minimum. What's more, ANDRITZ filter presses can be easily cleaned, and cleaning-in-place options are also available. Components are manufactured according to FDA standards. In addition, brewery customers in particular benefit from the fact that ANDRITZ filter presses can be adjusted to a variety of processes and recipes.
And the expertise doesn't end with technology – whether you need spare parts, rentals, local service, repairs, upgrades, or modernization of your equipment, ANDRITZ is a full-service provider. From initial consulting through to service agreements, process optimization, and training programs, ANDRITZ experts are always looking for ways to minimize downtime and increase predictability in operations while raising your overall production efficiency. The network of 550 service specialists and global service centers ensures ANDRITZ will always be there to support you for many lifecycles to come.
PROVEN INDUSTRY IIoT PRODUCTS TO ENHANCE PERFORMANCE
ANDRITZ has launched Metris addIQ – a system that makes all separation processes smarter. The innovative automation solutions add a new dimension to the performance of production facilities by minimizing downtime and maximizing product yield, quality, and consistency, even for operations that are already up and running.
The Metris addIQ control system reflects the very latest in the IIoT (Industrial Internet of Things)/Industry 4.0 sector and has already proven its concrete value added by enhancing availability and minimizing production costs at the same time as increasing overall equipment efficiency and reducing the risk of operational errors. Not only are the solutions completely scalable, they are also backed by a specialist network of global automation experts.
Visitors to the ANDRITZ booth will be met by a team of specialists with extensive, detailed know-how in the areas of digital plant and process optimization, sensor technology, condition monitoring, augmented reality, data security, and B2B service business.
- End -
ANDRITZ GROUP
ANDRITZ is a globally leading supplier of plants, equipment, and services for hydropower stations, the pulp and paper industry, the metal working and steel industries, and for solid/liquid separation in the municipal and industrial segments. Other important fields of business are animal feed and biomass pelleting, as well as automation, where ANDRITZ offers a wide range of innovative products and services in the IIoT (Industrial Internet of Things) sector under the brand name of Metris. In addition, the international technology Group is active in power generation (steam boiler plants, biomass power plants, recovery boilers, and gasification plants) and environmental technology (flue gas cleaning plants) and offers equipment for the production of nonwovens, dissolving pulp, and panelboard, as well as recycling plants.
A passion for innovative technology, absolute customer focus, reliability, and integrity are the central values to which ANDRITZ commits. The listed Group is headquartered in Graz, Austria. With over 160 years of experience, 29,000 employees, and more than 280 locations in over 40 countries worldwide, ANDRITZ is a reliable and competent partner and helps its customers to achieve their corporate and sustainability goals.
ANDRITZ SEPARATION
ANDRITZ Separation is one of the leading separation technology specialists with the broadest technology portfolio in solid/liquid separation. The industries served include sectors ranging from environment to food, chemicals, and mining and minerals. The comprehensive product portfolio for solid/liquid separation comprises mechanical technologies such as centrifuges, filters, screens, thickeners, or separators, and thermal technologies such as dryers or coolers. The service sector focuses on customer support through local presence, prompt delivery of spare and wear parts, process monitoring and optimization, as well as operator training. In addition, the Separation business area offers technologies and services for the production of animal feed and biomass pellets.