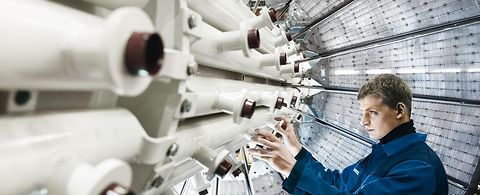 ANDRITZ launches a new range of fine screens for efficient screening
2019/05/20
International technology group ANDRITZ presents its new range of Aqua-Screen fine screens, specially designed to meet the most demanding needs in handling municipal or industrial wastewater streams for customers in the environment sector.
The ANDRITZ Aqua-Screen fine screens ensure optimum separation of suspended solids from the water influent, thus supporting enhanced performance by the downstream wastewater treatment process.
ONE STEP AHEAD IN EFFICIENT SCREENING
Proper screening is one of the most important process steps in a wastewater treatment plant. To ensure optimum results, critical parameters such as application, flow, load, composition of screenings (sticky, fine, etc.), size of screenings, and so on have to be taken into account. Within the broad product range of ANDRITZ Aqua-Screen fine screens, customers can easily find the right solution range to meet their specific screening requirements.
A MODULAR CONCEPT FOR GREATER FLEXIBILITY AND COST SAVINGS
The ANDRITZ Aqua-Screen fine screen uses standardized and common frame parts. This design provides environment customers with various benefits such as reduced maintenance time, reduced number of different spare parts required, operator-friendly adjustment with improved access door, and pop-out/pop-in modular design for screen racks and panels (less than 30 minutes needed for replacement of complete filter elements).
With its modular concept, the ANDRITZ Aqua-Screen fine screen is a high-tech solution adapted to customer needs and integrating all existing screening categories:
ANDRITZ Aqua-Screen T: toothing system allows effective, two-dimensional fine screening and a lifting capacity (dimensions/quantity) unrivalled on the market; it can be adapted to suit any application.
ANDRITZ Aqua-Screen P: perforated plate system allows circular, two-dimensional fine screening – one of the most efficient on the market; it can be adapted to most applications.
Depending on the screening system selected, the ANDRITZ Aqua-Screen fine screen can achieve a capture rate of up to 85%. A high capture rate improves maintenance costs by preventing high solids content reaching the downstream equipment (pumps, impeller, aeration turbines, and aeration compressors).
BEST-IN-CLASS MBR PROTECTION WITH ANDRITZ AQUA-SCREEN MBR FINE SCREEN
In addition to the modular screen system, the ANDRITZ range includes a complementary device for MBR (Membrane BioReactor) protection – the ANDRITZ Aqua-Screen MBR fine screen. In order to protect the MBR, it is essential to eliminate any kind of fibrous material, which could damage and clog the system. The ANDRITZ Aqua-Screen MBR fine screen has a capture rate of up to 99% (officially tested and proven at the UK water industry's screen testing center – NSEF Chester-Le-Street).
- End -
ANDRITZ GROUP
ANDRITZ is an international technology group providing plants, systems, equipment, and services for various industries. The company is one of the technology and global market leaders in the hydropower business, the pulp and paper industry, the metal working and steel industries, and in solid/liquid separation in the municipal and industrial segments. Other important fields of business are animal feed and biomass pelleting, as well as automation, where ANDRITZ offers a wide range of innovative products and services in the IIoT (Industrial Internet of Things) sector under the brand name of Metris. In addition, the company is active in power generation (steam boiler plants, biomass power plants, recovery boilers, and gasification plants) and environmental technology (flue gas and exhaust gas cleaning plants) and offers equipment for the production of nonwovens, dissolving pulp, and panelboard, as well as recycling plants.
ANDRITZ stands for passion, partnership, perspectives and versatility – core values to which the company is committed. The listed Group is headquartered in Graz, Austria. With almost 170 years of experience, over 29,000 employees, and more than 280 locations in over 40 countries worldwide, ANDRITZ is a reliable and competent partner and helps its customers to achieve their corporate and sustainability goals.
ANDRITZ SEPARATION
ANDRITZ Separation is one of the leading separation technology specialists with the broadest technology portfolio in solid/liquid separation. The industries served include sectors ranging from environment to food, chemicals, and mining and minerals. The comprehensive product portfolio for solid/liquid separation comprises mechanical technologies such as centrifuges, filters, screens, thickeners, or separators, and thermal technologies such as dryers or coolers. The service sector focuses on customer support through local presence, prompt delivery of spare and wear parts, process monitoring and optimization, as well as operator training. In addition, the Separation business area offers technologies and services for the production of animal feed and biomass pellets.