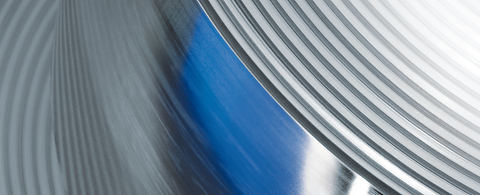 Leveling technology
The premier name in leveling. ANDRITZ Herr-Voss Stamco is the name you can trust in your search for precision leveling equipment. We have engineered and manufactured thousands of precision roller levelers that produce first quality flat rolled products. Our reputation as the leader in leveling technology has been earned through over 75 years of experience and service.
Precision corrective leveling
Model VKL levelers
With over two feet of steel structure beneath every back-up bearing assembly, we provide the most rigid leveler on the market. Wedge-type back-up supports stay where they're set with zero deflection, without the need for complex controls or plumbing. There are many ANDRITZ Herr-Voss Stamco levelers that have been in operation for over half a century, and continue to produce top quality results day after day. You know ANDRITZ Herr-Voss Stamco will be here to provide service and parts long into the future. 
Punch-N-Go® control software
Menu driven data entry and storage system provides the operator with the ability to save present leveler settings and recall them later. Features automatic setup of the leveler to recommended settings by gauge and type of material, as well as automatic setup to previously saved settings. Flexible interface allows the operator to clearly label and identify saved settings to be quickly recalled at a later time.
Cassette levelers
ANDRITZ Herr-Voss Stamco offers levelers with an easy cassette removal system. This permits an extended strip thickness and product range to be achieved with a single leveler. This feature also permits the roll cassette to be removed from the machine for inspection, cleaning, and maintenance. Cassettes can also be Four, Five, or Six- High. This is a big advantage when running a wide variety of products or surface sensitive products.
Sheet & Parts leveling
ANDRITZ Herr-Voss Stamco levelers are also used in stand-alone applications to provide dead-flat sheets and parts.
Model VML levelers
Compact and cost effective, yet powerful enough to get the job done, the Model VML levelers are well known throughout the industry for providing panel flat sheet in stamping lines, roll forming lines and small cut-to-length lines. These levelers are also commonly used to level stand-alone sheets or parts.
Stamping applications
ANDRITZ Herr-Voss Stamco Levelers used in press feed operations for the automotive, electrical lamination, and other high production stamping operations precisely control flatness of the finished part. They are more effective at eliminating coil set and cross bow than conventional flatteners. The additional ability to compensate for edge wave and center buckle means stampers can also control the dishing that occurs when stamping large holes in heavy strip.
Roll forming applications
Easy to use ANDRITZ Herr-Voss Stamco Levelers are commonly used in high production of roll formed panels. Edge wave can be induced into the strip to compensate for lengthwise "draw" which results from roll forming panel edges.
Enhanced leveling technology
Enhanced leveling is the new benchmark for producing stay-flat material. When coupled with our industry leading corrective levelers, ELT™ gives you an unparalleled competitive advantage in differentiating yourself from your competitors.
Enhanced leveling technology addresses the problem of un-uniform (trapped) strain in sheets that have been correctively leveled. This is done through a unique combination of very severe and uniform bending.
Due to the continuous uniform bending through the length of the sheet and across its width, 100% of the sheet is subjected to exactly the same amount of work creating homogenous strain in all directions. This cannot be said about other secondary processes.
The end result is reliably consistent, repeatable and verifiable flat material that stays flat. Sheet to sheet, coil to coil for the most critical end user applications, materials that must stay flat during fabrication cannot have dissimilar internal strain. Enhanced leveling technology is the most consistent and reliable method of producing homogenous stay-flat material for the most demanding applications.