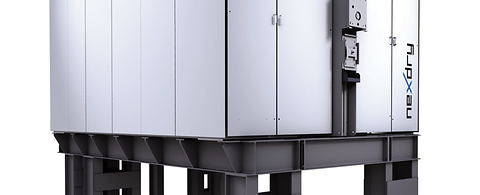 neXdry for spunlaid processes
Continuous filament dryer
More than 60% of all new nonwovens investments are in the hygiene market – especially finishing technologies to produce spunbond fabrics that are hydrophilic, antistatic, or flame resistant.
One of the main characteristics of these lines is a production speed of up to 1,000 m/min. ANDRITZ offers neXline finish, a complete solution including twin calender, dosing and application systems, dewatering unit, dryer, and process control.
The neXdry system is a new generation compact dryer designed to meet spunbond and/or spunjet manufacturers' highest demands in terms of reliability, costefficiency, and easy maintenance access. To optimize performance, neXdry is designed
with an omega roll of 270° drying wrap angle.
neXdry characteristics:
Working width: from 2.5 to 5.5 m
Roll diameter: from 1.6 m or 2.6 m
Speed: up to 1,000 m/min
Capacity: 130 L/h.m working width at 120° C
Your benefits:
High energy efficiency
High performance
Extremely durable
Dual temperature zones
Quick and easy maintenance