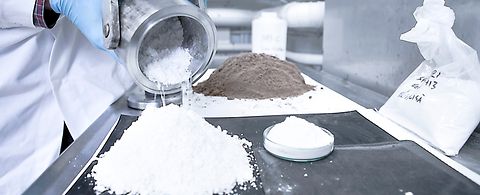 A-ConCrystal™ continuous-process microcrystalline cellulose technology
Value-added bio-products from the pulp mill
Microcrystalline cellulose – or MCC for short – is widely used for many purposes in a variety of industries, from the automotive industry's uses in composites and plastics to cosmetic and pharmaceutical additives. To date, the production of microcrystalline cellulose has been limited to relatively small production plants operating in a batch process. The ANDRITZ A-ConCrystal™ continuous-process microcrystalline cellulose technology allows cost-effective, high-capacity production with remarkable synergy benefits when the MCC plant is integrated into a pulp mill.
Background
Microcrystalline cellulose (MCC) is purified and partially depolymerized cellulose is obtained by treating alpha cellulose with mineral acids. It was originally developed in the 1950s in a search for a stronger rayon thread. Unfortunately, high production costs have restricted its use for decades, and although it is widely used in many applications in a variety of industries, the high cost is still a significant hindrance for potential users.
ANDRITZ A-ConCrystal™
The technology behind the A-ConCrystal™ process was developed at Aalto University in Finland. ANDRITZ has licensed the technology to implement it at full mill scale and commercialize it for the global market. Compared to traditional production methods, the A-ConCrystal™ process consumes significantly less acid, produces much less waste, and the reaction occurs at a much faster rate. This keeps the costs at a much lower level and makes large-scale production economically viable.
One of its key features is that, unlike the traditional methods based on batch processing, the A-ConCrystal™ process is continuous. This allows the process to be easily controlled during production, which in turn ensures high product quality throughout the process – the microcrystalline cellulose end product has been proven to fulfill pharmaceutical standards in tests conducted by an internationally recognized, independent test laboratory.
| | |
| --- | --- |
| | A-ConCrystal™ |
| Acid consumption | 0.5–1.5% |
| Reaction time | 10–60 min. |
| Consistency | 10–30% |
| Need for neutralizing agent | low |
| Effluent amount | low |
| Temperature | hot |
| Hydrolysate recovery | yes (if integrated) |
Pulp mill integration
A unique capability of the ANDRITZ A-ConCrystal™ technology is the ability to be integrated into an existing pulp mill. With the synergy advantages offered by this type of integration, high production capacities are possible with low capital expenditure and operating expenses.
Integrating the technology into a pulp mill provides a platform that is self-sufficient in energy – unlike the previous production processes – and the by-products generated can be used to produce other bio-based chemicals such as different sugars and ethanol. The remaining wastewater can then be re-used in pulp production or directed to the pulp mill chemical recovery process.
Flexibility in raw materials
One of the key benefits of the A-ConCrystal™ process technology is its flexibility in terms of raw materials – it can handle dissolving or paper-grade pulp. The technology also makes it possible to produce special MCC varieties from unbleached pulp – so called brown MCC – which was not feasible previously.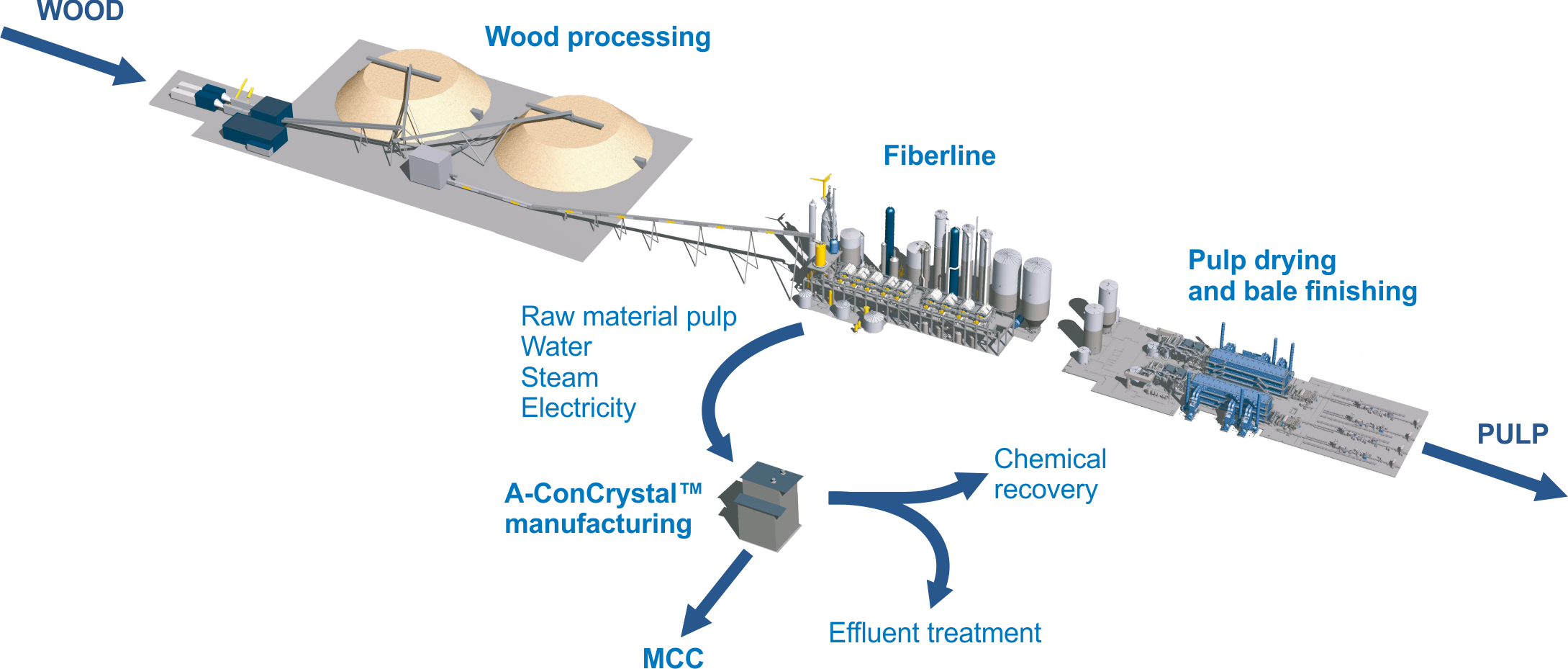 New market opportunities
Currently, MCC is mainly used in pharmaceutical applications, such as adhesives and filler agents for tablets, and also as a rheology modifier, fiber source, and bulk agent in food applications. In industrial applications, it is used in paint rheology modifiers, oil drilling additives, and cosmetics. With the low production costs and high capacities made possible by the ANDRITZ A-ConCrystal™ technology, it is expected that new markets for MCC will open up where the high costs associated with previous production methods made it unviable.
Contact us to find out more about ANDRITZ A-ConCrystal™ technology and its many potential uses!