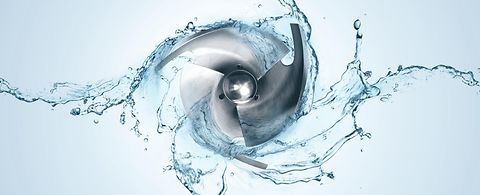 Self-priming centrifugal pumps
ANDRITZ self-priming centrifugal pumps fulfill high customer expectations regarding efficiency, life cycle, maintenance friendliness and economic efficiency.
ANDRITZ self-priming pumps, AD series, achieve high priming and degassing performance thanks to the integrated vacuum pump. With its semi-open impeller, the pump is designed for transporting solids-containing media (e.g. for pulp, paper, or waste water) or viscous media (e.g sugar industry).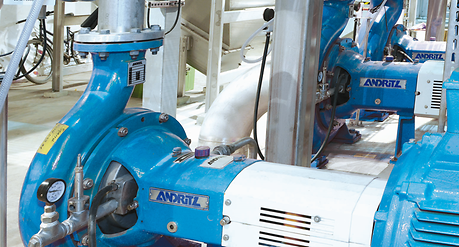 ANDRITZ self-priming pumps with an integrated vacuum pump prevent air from collecting at the impeller inlet and guarantee that the pump primes well, even with high gas content or unfavorable suction pipe arrangements. Thanks to these design features, the self-priming centrifugal pumps are perfectly suited for applications and processes in the sugar, pulp, paper and food industry as well as for water supply and waste water treatment.

The vacuum pump removes gas from the medium to guarantee trouble-free transport of the media. Thus, the unit is insensitive to conveying vicious (e.g. sugar concentrations of up to 70%) and high-solids media (e.g. for pulp, paper or sewage applications) due to the semi-open impeller. The semi-open impeller also provides better efficiencies with viscous media compared to closed impellers. For more information on our self-priming centrifugal pump please have a look at our brochures in the sidebar or contact us directly.
ANDRITZ AD pump series
| | |
| --- | --- |
| Design: | single-stage, single-flow, semi-open impeller |
| Head: | up to 190 m |
| Flow rate: | up to 9,000 m³/h |
| Pressure: | up to 40 bar |
Product benefits
A priming tank becomes obsolete
Saves space and investment cost
Non-clogging
Allows for more suction height