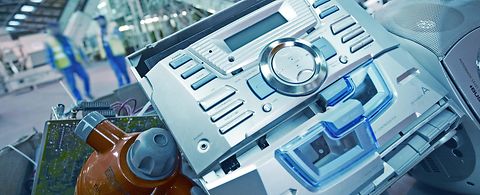 WEEE and refrigerators recycling
With the proliferation of electrical and electronic devices, E-scrap has become the fastest growing (estimated 50 million tons per year) waste stream in the world. With the potentially hazardous materials found in electronics, it is a challenge to break down and safely recycle components. This is a challenge that ANDRITZ has successfully conquered.
A technical innovation from ANDRITZ Recycling – the ADuro QZ shredder – has made a big impact on successful E-scrap recycling operations. No cutting tools are employed in the shredder. The machine breaks down different composite materials quickly and gently using rotating chains so that the individual fractions (like iron, plastic, printed circuit boards, cables, and copper coils) are exposed and can be easily separated from one another in downstream processes. Components that contain hazardous substances, such as batteries and capacitors, remain intact and can be disposed of without any negative impact on the environment.