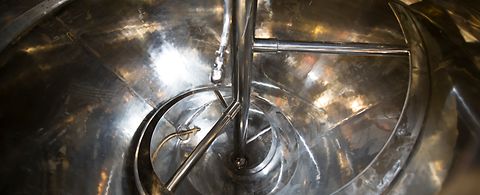 Batch Helix dryer
Vacuum contact drying
The ANDRITZ batch dryer uses a central, top-driven helical mixer in a conical vessel, enabling smooth and efficient mixing of the dry material. Even sticky products can be processed thanks to the special design of the mixing screw.

Due to its heatable vessel and mixer, the ANDRITZ Gouda helix dryer is a high-performance vacuum contact dryer which is processing the product very gentle at low temperatures. Combining central product discharge and optimized screw design, it guarantees almost residue-free emptying. Thanks to the patented shape, the dryer design is very compact and fits very easily into limited room height. Units are available form 4 liter lab units up to 12 m3 production units. Up to 200 liter dryers, the customer is able to choose stationary or mobile design, which offers a big flexibility and efficiently in production.
The mobile units can be designed with a hinged cover for easy access to the process chamber and 100% inspection of all product wetted parts. Additional equipment is available with interchangeable components such as choppers, vacuum system, heating/cooling system and CIP skid. The dryer can be heated with water, thermal oil or steam, depending on the application. Design pressures and temperature ranges can be chosen according the drying needs of the customer.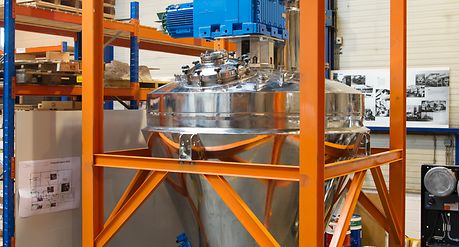 Pharmaceuticals / APIs
Intermediates 
Fine Chemicals
Fungicides
Amino acids 
Valuable or toxic metals 
Foodstuff
Sticky pastes or free flowing powders