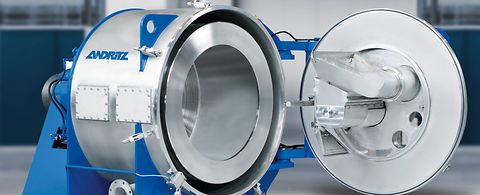 SmartFIX for filter centrifuges
A new filter cloth fastening system that reduces maintenance time and costs by around 50%
The ANDRITZ SmartFIX for filter centrifuges is the latest and most innovative filter cloth fastening system on the market today.

Nowadays, changing filter cloths is a very time-consuming, costly, and error-prone process. ANDRITZ SEPARATION, as a true full-service provider of separation equipment and systems, recognized the needs and has developed a solution that finally exceeds all expectations — SmartFIX.

SmartFIX combines a set of resilient endless tension strips with an endless polymer filter cloth specially designed for the strips. It is ready to replace the existing clamping ring assemblies in most types of filter centrifuges.

Benefits
Around 50% reduction in maintenance time and costs
Improved production availability and performance
Maximum safety for high-pressure applications
Optimum cleanability and batch traceability, especially for the pharmaceutical industry
Application
SmartFIX fits on most brands of filter centrifuges in the chemical and pharmaceutical industries