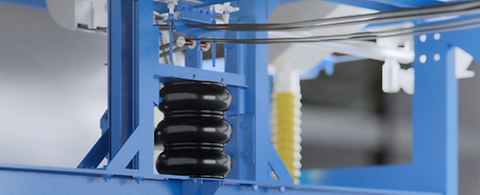 SmartLIFT
Lifting device for vacuum boxes – Maximum safety for your operators during vacuum box maintenance
ANDRITZ SEPARATION has developed a new device for lifting vacuum boxes on Horizontal Vacuum Belt Filters (HVBFs) – the SmartLIFT. Not only does the device make short work of a classically high-risk task, it can also be retrofitted to any brand or size and reduces downtime for vacuum box maintenance by over 30%.
Why does a vacuum box need a lifting device?
Vacuum box maintenance on Horizontal Vacuum Belt Filters (HVBFs) is an unpleasant, high-risk job. Current methods involve unwieldy hand operated winches, counterweights, levers, and other manual lifting equipment, all of which are high-labor alternatives that run the risk of personnel injury, while the option of using a pneumatic cylinder can prove prohibitively expensive.
How does it work?
The HVBF vacuum box is fitted with a SmartLIFT vacuum box lifting device that is situated directly under the vacuum box. A bellow-supported frame runs between guide slides on either side of the main frame vacuum box opening. The support can be adjusted in order to centralize the vacuum box in the HVBF. For maintenance purposes, the bellow supported frame is lifted pneumatically to take the weight of the vacuum box. The retaining system keeping the vacuum box in position can now be removed. Then the bellow(s) is/are simply deflated to lower the vacuum box so maintenance can now be carried out in a safe and stable position. The vacuum box is lifted back into position by inflating the bellow(s).
What makes the SmartLIFT vacuum box lifting device different?
With its highly effective design, the SmartLIFT vacuum box lifting device saves on time and personnel numbers, while substantially reducing the safety risk. What's more, the device can be retrofitted to any HVBF regardless of brand or size. Once the vacuum box is fully assembled on the bellow-support frames, it can be lifted and lowered between the maintenance and operational positions in the machine – significantly reducing the human-machine interface. A normally high-risk task becomes fast, simple, and much safer.
Benefits
Transforms a high-risk task into a low risk task
Reduces the downtime required for vacuum box maintenance by 30%
Reduces labor input since less manpower is required to lift and lower the vacuum box
Reduces the risk of injury during vacuum box maintenance by 50% as the lifting device stabilizes the vacuum box when lifting and lowering
Is low-maintenance thanks to the device having no pivoting points
Application
Can be retrofitted to any model and make of horizontal vacuum belt filter