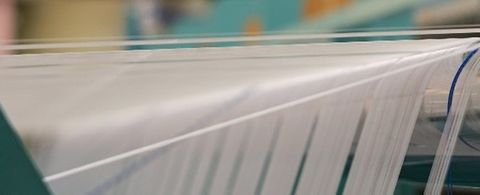 ANDRITZ Fabrics and Rolls Reutlingen: About us
ANDRITZ Fabrics and Rolls is a leading global manufacturer of paper machine clothing.
With patented material and production technology, we offer our customers in the Pulp & paper and other associated industries a complete product portfolio consisting of forming fabrics, press felts, dryer fabrics & shoe press belts. We also manufacture specialized roll covers made from rubber, polyurethane, fiber composite, ceramic and metallic materials. Our spreader roller technologies with fixed or variable bow are available as rubber sleeved and metal segment rolls. As a system provider, we have innovative digitization solutions and support our customers in their day-to-day business with tailor-made services to continuously develop and improve their production processes.
At the Reutlingen site, Customer bespoke forming fabrics are manufactured with the highest standards of precision and quality in various production areas such as warping, weaving, heat-setting, seaming and finishing.
Originally a family business which was founded in 1849, we continue to face all challenges with openness, customer focus, ownership of performance and a shared team commitment, which allows us to grow stronger with each success.



OUR PRODUCTS
TransForm™ is a new generation of forming fabric technology produced with innovative fabric structures combined with game-changing materials which deliver superior performance on your most demanding machines. Engineered for all grades, the TransForm portfolio includes designs to maximize efficiency on all your machines' unique fabric positions
OUR HISTORY
1849: Founded by Hermann Wangner as a bronze wire plant
It all began in 1849 with a metal fabric weaving plant. Hermann Wangner started his production with six wooden looms weaving metal cloth.
1857: Takeover of the wife
After the death of Hermann Wangner, his wife Rosina Wangner took over the management of the family business. At that time, she was the first female company director in Reutlingen.The Wangner company kept its name even after it was sold to the family of Adolf Kurtz. After many years of producing metal cloths and as the market changed, the first synthetic forming fabrics were produced in 1970.
2000: Change of name to Huyck.Wangner
Xerium Technologies Inc. based in Youngsville, North Carolina, USA bought Wangner and merged us with Huyck, a felt cloth manufacturer founded in America in 1870. This merger resulted in the company name Huyck.Wangner.
2018: Change of name to ANDRITZ Fabrics and Rolls GmbH
In 2018, ANDRITZ AG, headquartered in Graz, Austria, purchased Xerium Technologies Inc. with all its sites. Since the purchase, we have been part of the ANDRITZ Group at the Reutlingen site as ANDRITZ Fabrics and Rolls GmbH.
ANDRITZ Fabrics and Rolls GmbH, Reutlingen, Germany