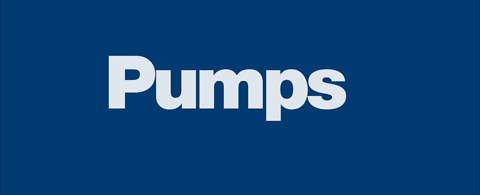 Teamwork of the machine type
Although there are no psychologically researched and defined team roles for machines and technical equipment, this concept of different roles in teams can still be roughly applied to industrial production chains. In these so-called value chains, the individual stages of production are mapped according to the order of the respective activities. As in a team, these individual activities in the form of machines create values, are linked to each other in processes and have a common end goal: the successful production of a product. With its product portfolio, ANDRITZ covers a number of such industrial value chains and supplies the corresponding team players in the form of many different machines and other equipment. An illustration of the overall interplay of this offer in all industrial value chains would fill more than one PUMPS issue. We have, therefore, selected an interesting combination from this wide range. Our main product focus, pumps, is complemented by products from ANDRITZ Separation to show how pumps, centrifuges, and decanters work together in and among several industrial value creation teams.
Water and wastewater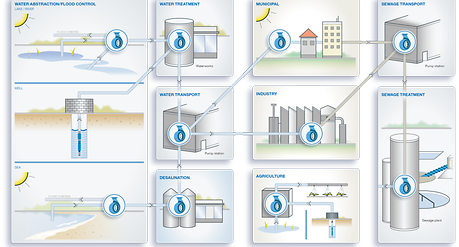 Water
Water affects almost every aspect of our lives, promotes economic growth, supports healthy ecosystems and is essential and fundamental to life itself. Global Water Intelligence predicts that several trends will impact the global water markets and their various value chains of water transport, treatment, irrigation and drainage, providing important opportunities and challenges. In the short term, the overall outlook is positive, marked by high oil prices and a strong economy. In the medium and longer term, there are reasons for concern, including trepidation that the current economic expansion is coming to an end, alongside political instability and the threat of climate change.
ANDRITZ pumps have been active in this essential market and its numerous value chains for more than a century. If water is lacking due to drought and climatic changes, concrete volute pumps or vertical line shaft pumps as part of the overall team infrastructure take on the important task of supplying water for irrigation. At the same time, also due to climatic changes, they can equally reliably pump off excess water in flooded and flood-prone areas. Thus, our entire range of standard and engineered pumps consists of a number of internationally proven team players who contribute to the team success in many water-related applications and value chains worldwide. ANDRITZ pumps such as submersible motor pumps, single-stage centrifugal pumps, or axial split case pumps also play their part when it comes to water extraction from shafts and wells, treatment, transport, and distribution of water.
Wastewater and sewage
Water can occur in many different forms; also as wastewater or sewage. Increasing disposal costs, higher volumes to manage and a growing recognition of its value is creating an exciting market for sludge management. The sector was worth 7.8 billion US-Dollars in 2018, growing to over 10 billion US-Dollars by 2023. The major opportunities and trends in the sludge management sector are the following: dwindling number of routes for sludge management, growing volumes of sludge led by developing countries, resource recovery becoming increasingly important.
ANDRITZ technologies do not only cover the entire wastewater and sludge treatment process, but also provide the necessary technical solutions for all these trends and opportunities in this sector.  Here, Aqua-Screen fine screens with belt thickeners, drum thickeners, and decanter centrifuges form a strong team. While the screens in all available sizes for waste water treatment plants with separation rates of 99 percent are highly efficient, belt thickeners, drum thickeners and decanter centrifuges ensure more solids and less water in no time. In the extended team, belt screen presses, screw presses, decanter centrifuges and filter presses reliably dewater to guarantee high cake solids content. In addition, paddle dryers, belt dryers, fluid bed dryers and drum dryers ensure trouble-free operation and lower operating costs. This guarantees overall safe and efficient drying of municipal sludge. This tried and tested team for municipal and industrial wastewater and sludge treatment disposal is rounded off by waste water pumps that can be installed either dry or wet and which reliably and efficiently supply, discharge and transfer the water at any stage.
Sugar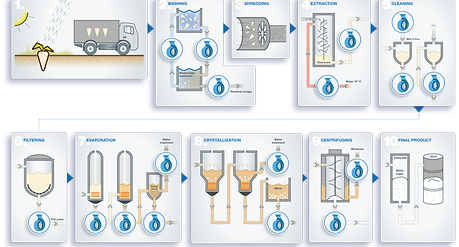 The global raw sugar production is currently forecasted at 181 million tons. This shows an increase of two million tons over the previous period. Brazil and the European Union more than offset an eight percent decline in India. Consumption is expected to rise due to growth markets such as Egypt, India, Indonesia and Pakistan. In 2017 and 2018, the world produced an oversupply of sugar, which led to a significant drop in prices.
A team of industrial machines and components is needed to extract the sweet substance from sugar beet or sugar cane and process it into its various end forms. Pumps, decanters, filter presses, dryers, filters and screens are a well-rehearsed team in all process steps, from washing to cleaning, filtering, crystallization and centrifugation. They are confronted with different stages of the medium, such as molasses, some of which are not only very viscous, but also have a sugar content of up to 70 percent. Due to the fact that the sugar content rises steadily due to the thickening of the juice in the production process and the gas content increases due to centrifugation, the ANDRITZ pump portfolio also includes self-priming centrifugal pumps. They are equipped with a vacuum pump to remove the excess gas in the medium and thus, transport the thick juice through the subsequent processing steps to the desired sugar form without any problems.
Starch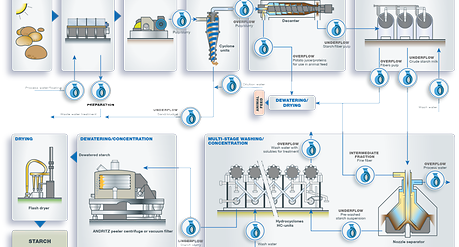 Starch is a white, tasteless, solid carbohydrate that occurs in the form of tiny granules in the seeds, tubers and other parts of plants. It is an important component of corn, wheat, tapioca, potatoes, rice, beans and many other vegetables. The global native starch market is expected to grow in the coming years due to its surging demand as emulsifiers, binders, thickeners and stabilizers. By the end of 2024, this global market is expected to reach more than seven billion US dollars. In terms of raw materials, the modified starch market is also expected to grow at a compound annual growth rate of 4.1 percent from 2018 and to reach a value of 12.67 billion US dollars by 2023. Modified starch is witnessing significant growth due to increasing incorporation in a wide range of foods and cost-effectiveness offered by them, along with the enhanced functionalities they provide in comparison to native starch. On the basis of raw material, the modified starch market was led by the corn segment within the last years. On an application basis the thickeners segment was dominating. As a thickening agent it intensifies the viscosity of a liquid without significantly changing its other properties and is generally used in gravies, puddings, sauces and soups without altering the taste.
For this booming market, ANDRITZ supplies leading technologies for the production of native and modified starch from tapioca, potatoes, wheat, corn, or rice. In addition to the core team consisting of decanter centrifuges, peeler centrifuges, and dryers, our innovative and targeted pump solutions cover the entire starch production process from raw material preparation, extraction, and fiber separation to final washing and concentration. For this purpose, the different stages of the starch medium in the process such as starch milk and sludge, fiber fractions, corn sludge and suspensions are processed, separated and pumped together reliably and efficiently. In addition, the pumps take care of various process waters such as washing water, spring water or dilution water. Together with the centrifuges and dryers, they set new standards in the production and processing of all types of native and modified starches and guarantee high quality, performance and reliability.
Desalination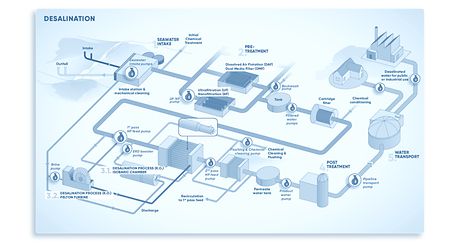 The desalination market has experienced extremely rapid growth in the last decade as more countries look to use marginal water resources such as seawater and brackish water to meet their needs. In the period 2004 to 2014, newly contracted units provided an additional 50 million cubic meters per day to the global desalination capacity, with an average additional capacity of 4.5 million cubic meters per day each year. Behind these desalination plant capacities is a correspondingly reliable technology. ANDRITZ develops, manufactures, and supplies not only the complete pump portfolio for safe, reliable, and energy-efficient desalination, but also screens and decanter centrifuges. Together with the vertical line shaft pumps, the Aqua-Screen fine screens are a reliable team in the area of salt water intake. Process pumps and decanter centrifuges, however, work closely together in the field of brine treatment. This is a highly concentrated salt mixture, a residual product of the desalination process, which has to be prepared and treated beforehand to be returned to the sea, for example. Between the salt water intake stage and the brine treatment stage, various process pumps such as high-pressure pumps, cleaning pumps or backwash pumps are installed throughout the entire desalination process and ensure that the water to be desalinated is conveyed to the respective treatment stations until it is fed into the water pipe for its final industrial or municipal use.
The smart team player
Pumps, decanters and centrifuges have been joined – independent of the industrial value chain  ̶  by an already quite established and well-known team player. To find out more about this "mysterious" team member continue reading this article in our magazine.